The Abbeymead Vision, Aims and Values
Our Vision
Our vision is to ensure that every child in our school leaves us Ready for Life.
Aims
To facilitate our vision we aim:
To ensure that every child enjoys learning and achieves their full potential, regardless of gender, age, race, physical or intellectual capacity, in a happy and secure learning environment.

To ensure that the skills, knowledge, dispositions and values of individuals are fully developed thereby encouraging them to become compassionate citizens who make a difference to their world.

To provide a broad and balanced curriculum, in which all subjects are valued, and where research-based teaching and learning provides knowledge, skills, vocabulary and experiences relevant to our local community and the wider world.

To provide a curriculum which promotes, across all subjects, opportunities for reading, writing, and speaking and listening, and the application of maths skills and concepts.

To use the creative arts such as drama, music, art and dance as vehicles for learning, encouraging our children to use their own creative skills and imagination to discover possibilities, and refine ideas to produce individual and unique outcomes.

To promote the health, well-being and confidence of all learners within the school, enabling them to see themselves as valued and valuable members of a wider society.

To teach the children the importance of respecting themselves, each other, as well as the wider world.

To provide a strong framework for promoting good behaviour and positive attitudes in order to cultivate a safe and secure community in which everyone may flourish.

To develop the school's role in the local and wider community and, as a result, each child's understanding of citizenship, by encouraging links with local industry, residents and organisations.
Values
The school actively promotes British Values, defined by the government as the following:
Democracy

The rule of law

Individual liberty

Mutual respect

Tolerance of those of different faiths and beliefs
At Abbeymead we have interpreted these British Values in the following manner: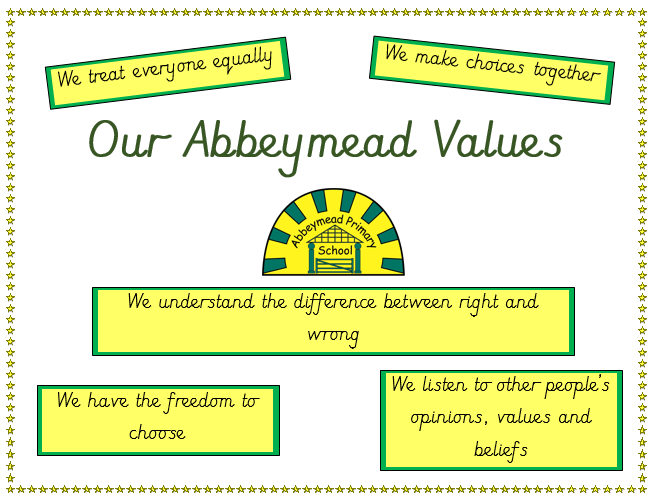 At Abbeymead, values of tolerance and respect permeate all areas of school life. This engenders a climate within which pupils feel safe, secure and ready to learn. Pupil voice plays an integral part in driving the school forward and the Positive Relationships and Behaviour policy provides the basis for highly effective relationships both within and across the staff and pupil communities. Actively promoting the school's values also means challenging pupils, staff or parents who express opinions contrary to the British Values.
Mead Road, Gloucester, Gloucestershire, GL4 5YS
Tel: 01452371710
Email: secretary@abbeymead.gloucs.sch.uk