History at Abbeymead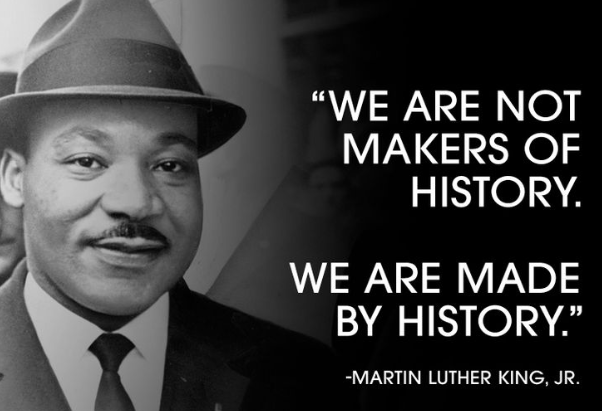 The Abbeymead Journey of being a historian - currently being updated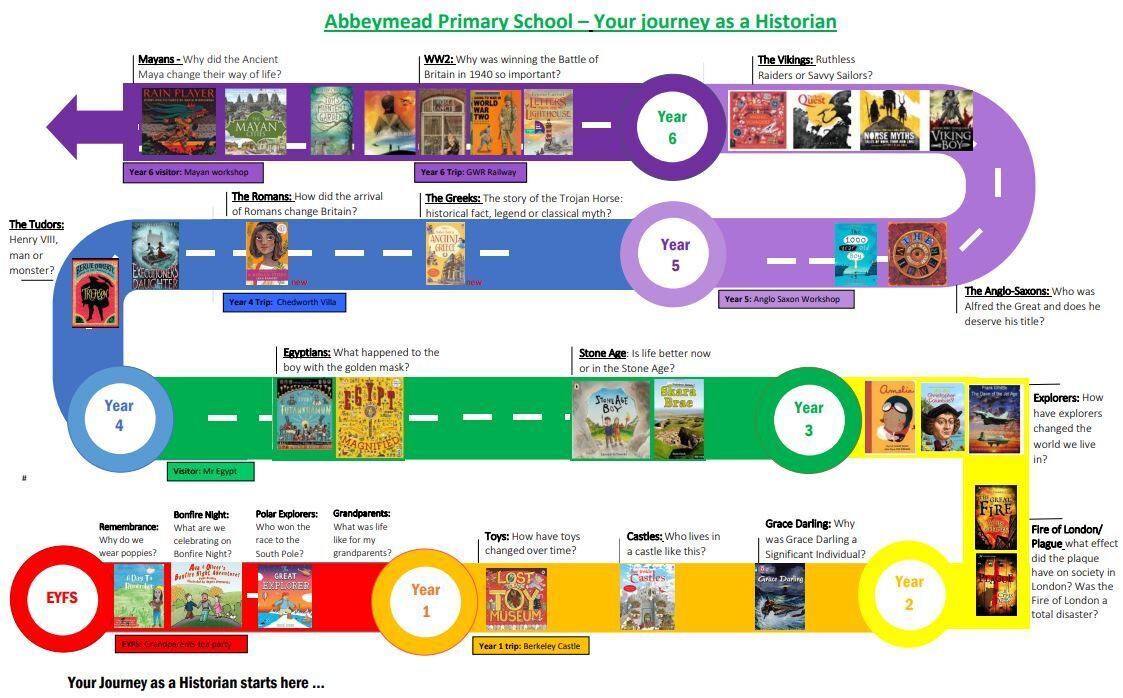 We follow the Primary National Curriculum for History in England.
Learning about history topics in primary school can be great fun. Children are inspired to research events, they love thinking about people of the past, and especially enjoy all the bits that are gory, nasty or just plain mad (that's why Horrible Histories is so popular)! It is also fantastic for using so many English, Computing, Art and collaborative skills that we just cannot ignore the wonderful advantages of learning about the past.
History in the National Curriculum can be summed up in just a few statements: ordering events in time; finding differences and similarities; writing and talking about the past; using different sources for information; asking and answering questions. All classes in each year group will do all of these at some point and aim to link 'then' with 'now'.
Early Years Foundation Stage (EYFS)
The early learning goals at EYFS are very much focused on the memories of the child. It may be that they are asked to remember a special event or routine or custom for their family. They may talk about differences between different family members or different generations.
Key Stage 1 (Years 1 and 2)
At Key Stage 1, children may be asked to learn about specific people or events that are both within and beyond living history. Teachers are more free to choose who or what they would like to teach about so there is a lot more variation between individual schools. Popular choices often include people like Neil Armstrong or Tim Peake, Grace Darling, or Florence Nightingale. Events such as the Great Fire of London, the first aeroplane flight, or themes such as castles or toys lend themselves very well to learning about the past. There will often be a very strong link to a local event or person.
Key Stage 2 (Years 3 to 6)
At Key Stage 2, the curriculum is much more prescriptive. Your child will learn all about the following periods of British history over the 4 years in Key Stage 2.
Stone Age

Ancient Romans

Anglo Saxons and Scots

The Vikings

A local history unit

A period of history later than 1066 (e.g. World War 2, Victorians, Tudors, the 1960s).
Children will also be introduced to some world civilisations in history. There is some variation allowed for schools here as they can choose one of each section. It may depend on the period of history most relevant to the children themselves.
Ancient Greeks

Ancient Egyptians or Ancient Shang dynasty of China or the Indus Valley

The Mayans or Islamic Civilisation or Benin (AD 900-1300) to contrast with British history
How can I support my child with history?
Share your family history
Make history relatable by sharing your own family history with your child. Share fun memories of the people and places in your childhood, and encourage your child to talk about their favourite memories as well. Share photographs with them from the past and talk about the differences between then and now.
Books and television
Use books or TV programmes as a conversation starter about the past. Read about people and events that have made a difference in the world, and let your child know that these people were not unlike your child. Try visiting your local library to discover a wider range of books.
Commemorate important historical events
Make your child aware of historical events such as Remembrance Day. Discuss why they are important and think of ways you can commemorate them together. Watch the news together and explain what is happening and why.
Local History activities to do with your child
Museum of Gloucester
Where: Brunswick Road, Gloucester, Gloucestershire GL1 1HP
Discover one million objects at this engaging museum, full wall to wall with interesting facts and artifacts for the budding historian in your family. Learn the history of the city's origins from a Roman settlement through its transition as through the Dark Ages and Medieval period. With plenty of interactivity as well as events for children throughout the year, this museum is sure to keep them entertained and educated!
Admission to the museum is free, but donations are welcome.
Website: gloucester.gov.uk/museum-of-gloucester/
Soldiers of Gloucestershire Museum
Where: Custom House the Docks, Commercial Road, Gloucester GL1 2HE
Dedicated to the memory of all those who have served their country as Soldiers of Gloucestershire - this museum offers incredible insight. Soldiers from the last 300 years are immortalised in the museum, going from Napoleonic Wars right up to modern day conflicts focuses on locals that fought. Try on Army uniforms, look into a First World War trench, learn about medals and how soldiers won them through history in a range of interactive displays.
Admission is based on age, with an option to become a friend of the museum.
Website: soldiersofglos.com/
Berkeley Castle
Where: Berkeley, Gloucestershire GL13 9PJ
Delve into this corner of history with your family for a day of historical adventuring. With plenty of activities for kids to enjoy from castle guides to free quizzes and trails both inside and outside the Castle. When visiting during May and September, families will be able to explore the the Butterfly House! More interactive fun includes outdoor games and a dressing-up area which will keep your little ones entertained when they aren't exploring the gardens .
Admission is based on age, with optional gift aid available for guests.
Website: berkeley-castle.com/
Dean Heritage Centre
Where: Camp Mill, Soudley, Forest of Dean, Gloucestershire GL14 2UB
Set in amongst five acres of stunning scenery, the centre is fully interactive and perfect for families.
Dean Heritage protects and preserves the unique history and heritage of the Forest of Dean, through a range of interactive galleries including a Victorian cottage and a Beam Engine. Families can explore the woodland trail based on the The Gruffalo, which is bound to bring some enjoyment. What makes this attraction even more appealing is the fact it offers both indoor and outdoor fun, so you can visit all year round!
Admission is based on age with optional gift aid and packages available for families. Those that just want to do the Gruffalo trail can at a reduced entry rate.
Website: deanheritagecentre.com/
Clearwell Caves Ancient Iron Mines
Where: Royal Forest of Dean, Coleford, Gloucestershire, GL16 8JR
Discover an incredible underground world, where families can discover something spectacular and unseen. It's in an incredible natural cave system that was once mined for more than 4,500 years - it's a fascinating experience for all. Full of colourful caverns and generations of history to be explored, see if you can discover any extinct creatures! It's an incredible interactive experience that can be enjoyed by children of all ages.
Admission is based on age with family tickets available to purchase.
Website: clearwellcaves.com/
Jet Age Museum
Where: Meteor Business Park, Cheltenham Road East, Gloucester, Gloucestershire GL2 9QL
Immerse yourself in a world of aircrafts, engines and restoration projects that are on display at this museum. The perfect spot for aviation enthusiasts, you can learn about the history of flight and aircrafts. During opening hours guests can take on timed and guided tours of the Avro Vulcan bomber cockpit and Hawker Siddeley Trident airliner - you'll be impressed when you see it.
Open from 10am to 4pm on Saturdays, Sundays, the majority of UK Bank Holidays and selected Wednesdays during Schools' holiday periods, admission is FREE!
Website: jetagemuseum.org/
Cotswold Motoring Museum and Toy Collection
Where: The Old Mill, Sherborne Street, Bourton-on-the-Water, Cheltenham, Gloucestershire GL54 2BY
Take your families to this museum to discover a range of motor vehicles you wish you owned! Guests will be invited to take a fascinating journey through time to explore the history of 20th-century motoring. From caravans from the 1970s to a Blacksmiths workshop with artefacts that date back to 1625. Children will be amazed to learn about the incredible range of toys available in the past, and see how it has changed to the toys they have today.
Admission is based on age, with Boundless Members offered a reduced rate.
Website: cotswoldmotoringmuseum.co.uk/
Gloucester Waterways Museum
Where: Llanthony Warehouse, Gloucester, Gloucestershire GL1 2EH
Learn about the incredible and fascinating 200-year history of the docks and the Gloucester and Sharpness Canal at this museum. There is plenty to learn, and interactivity to get involved from climbing aboard historic boats, enjoying hands-on fun, watching archive films and browsing galleries rich in canal heritage and stories. Located within a Grade II listed warehouse, it's an incredible sight to behold.
Admission is based on age with family packages available and children under the age of five allowed in free of charge.
Website: gloucesterwaterwaysmuseum.org.uk/
Useful websites and apps to use at home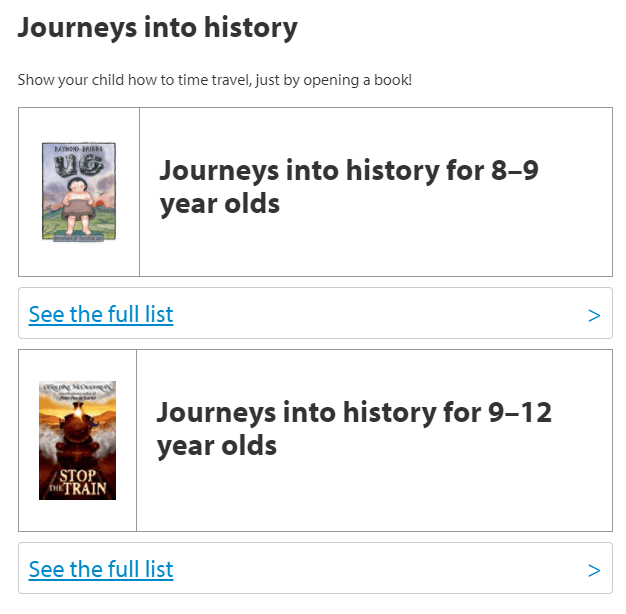 Oxford Owl- lots of great fiction books about historical journeys.
https://www.oxfordowl.co.uk/welcome-back/for-home/reading-owl/find-a-book/brilliant-books/journeys-into-

A list of the top History apps
https://www.theschoolrun.com/best-history-apps-for-kids
Other exciting apps to try!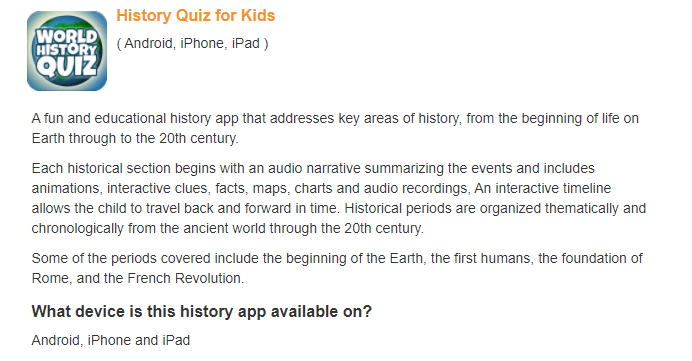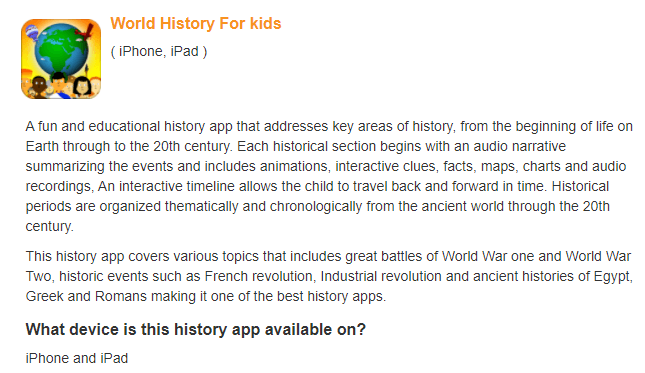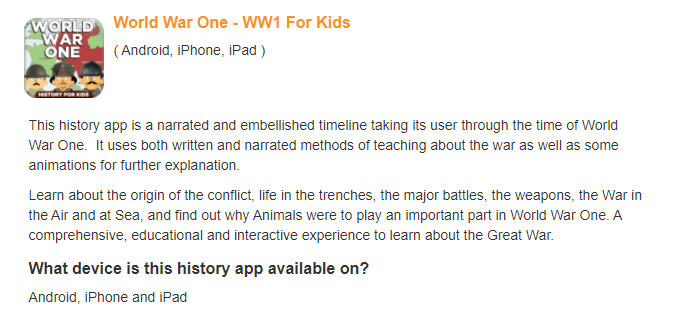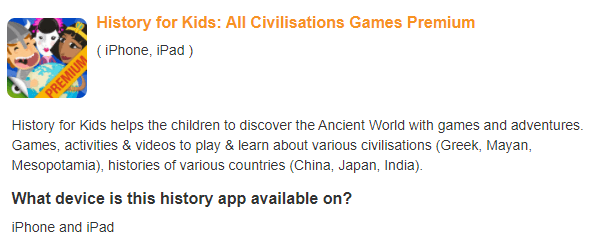 Further support and useful websites
The BBC website has loads of links to videos, games and information a range of historical periods
Try Teaching History with 100 Objects for some great ideas for using artefacts to teach history
http://www.bbc.co.uk/history/forkids/
http://www.historyforkids.net/
http://www.dkfindout.com/uk/history/ History for Children
Mead Road, Gloucester, Gloucestershire, GL4 5YS
Tel: 01452371710
Email: secretary@abbeymead.gloucs.sch.uk