Art and Design at Abbeymead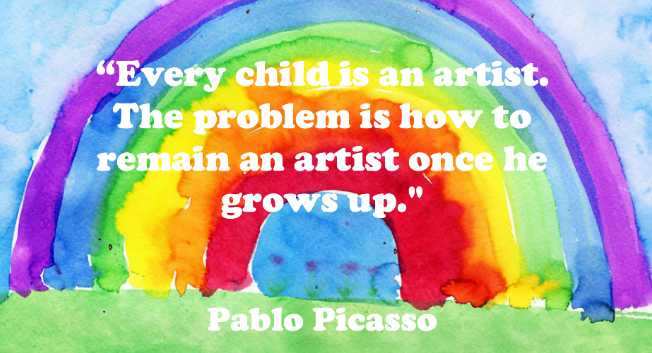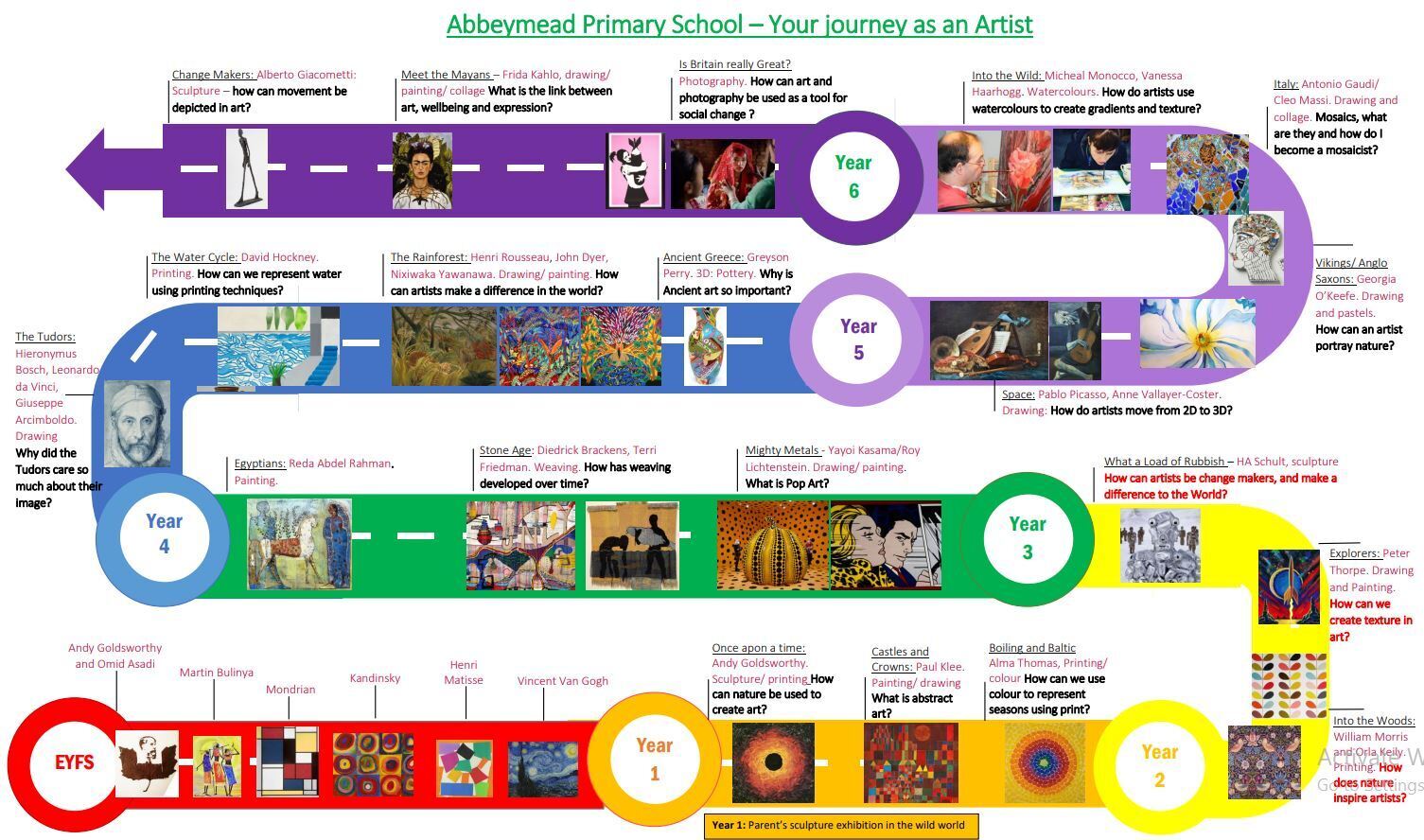 We use the Primary National Curriculum in England for our Art and Design curriculum.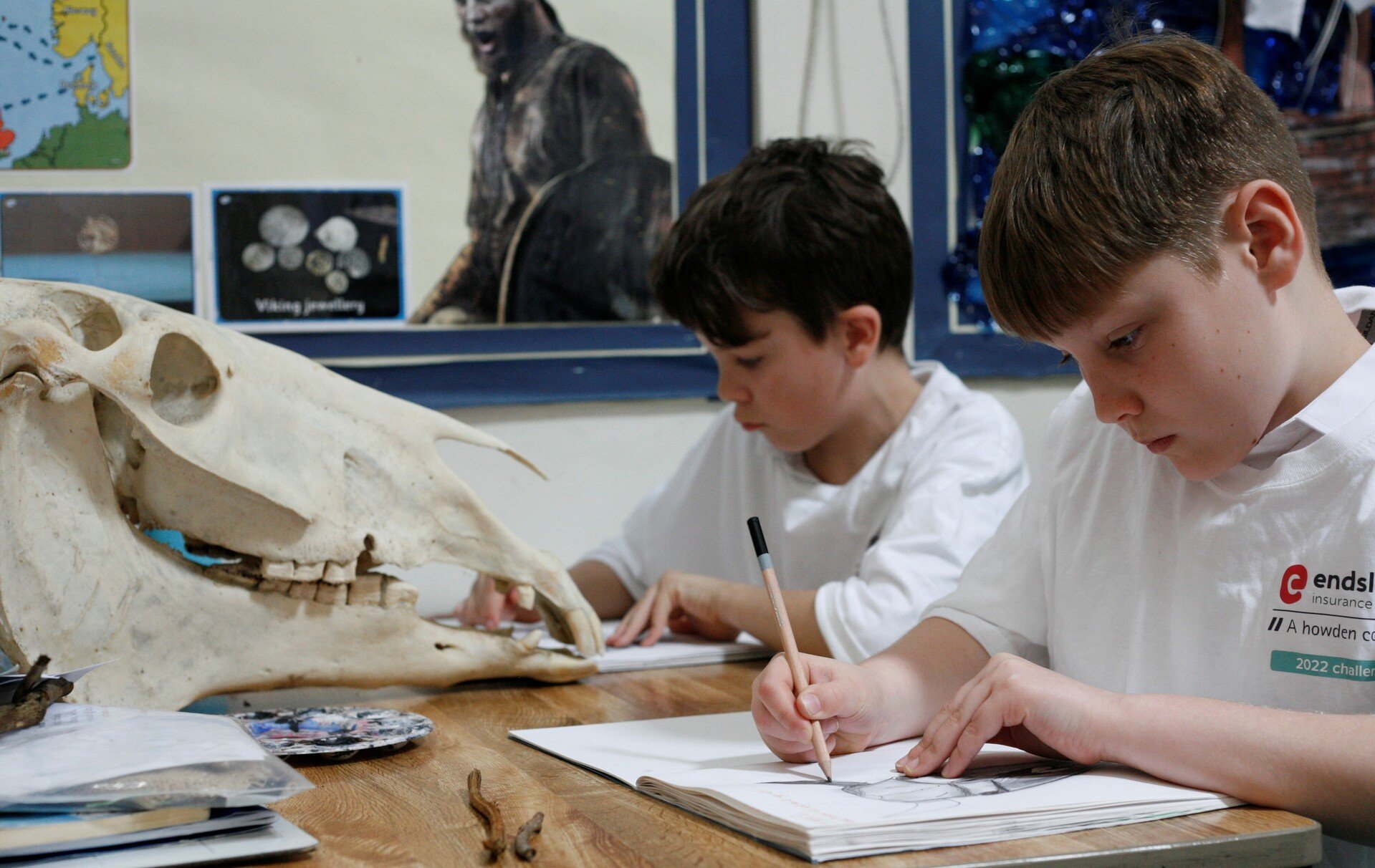 Examples of work across the school
Year 6 have been learning about Frida Kahlo and some of the challenges she faced during her lifetime. The children had a think about their own identities and had a go at creating self portraits using a range of drawing and painting techniques.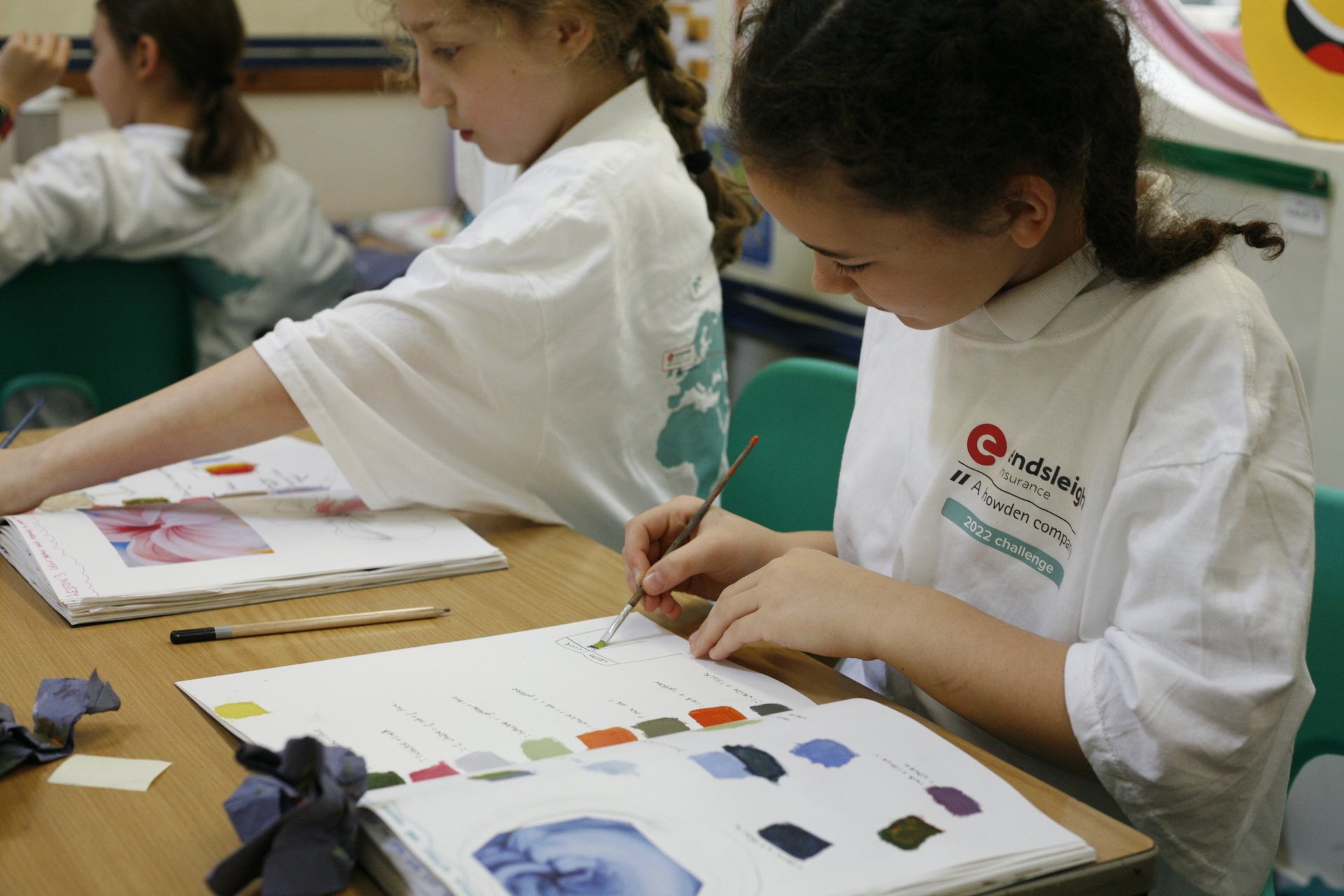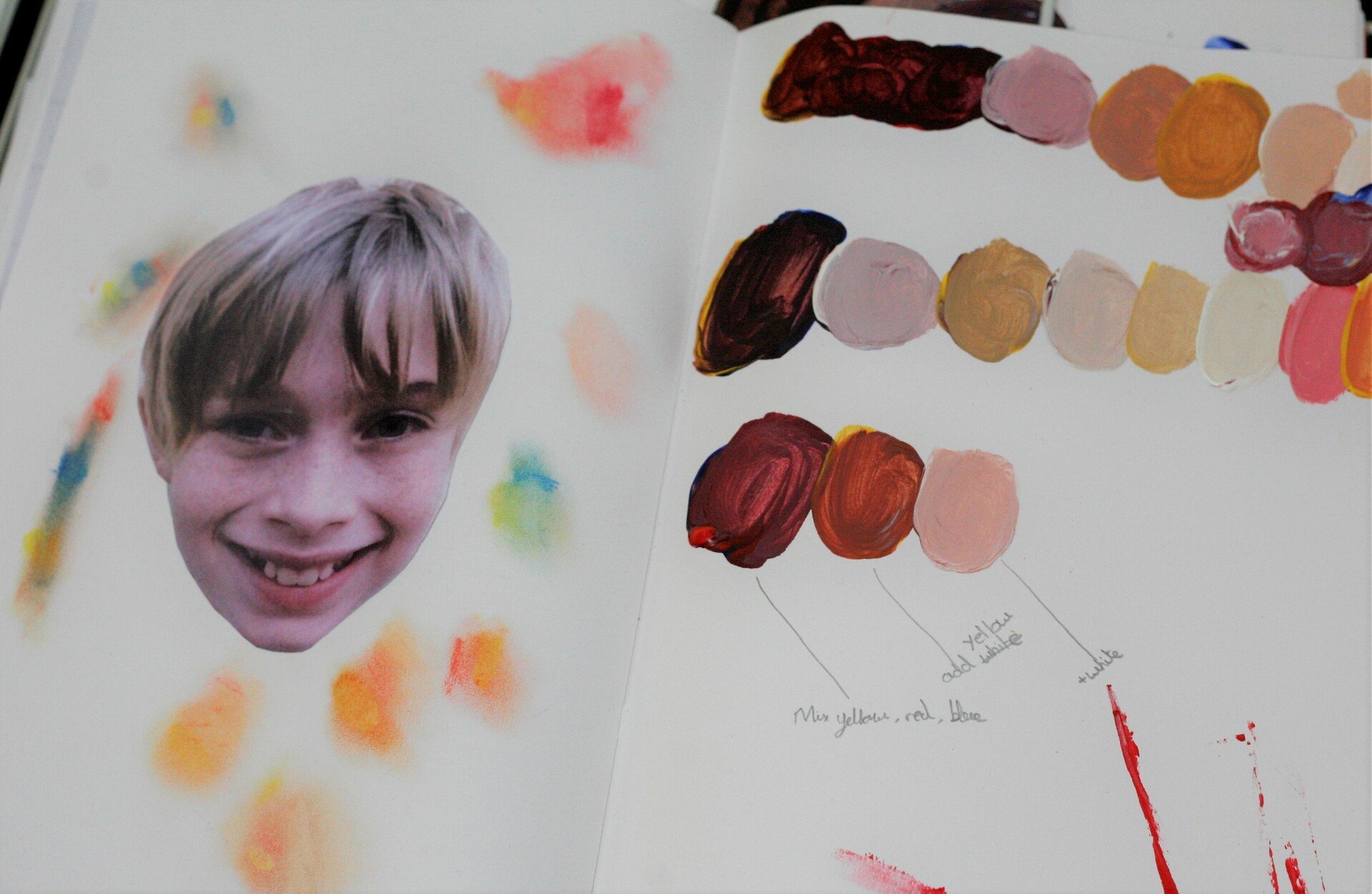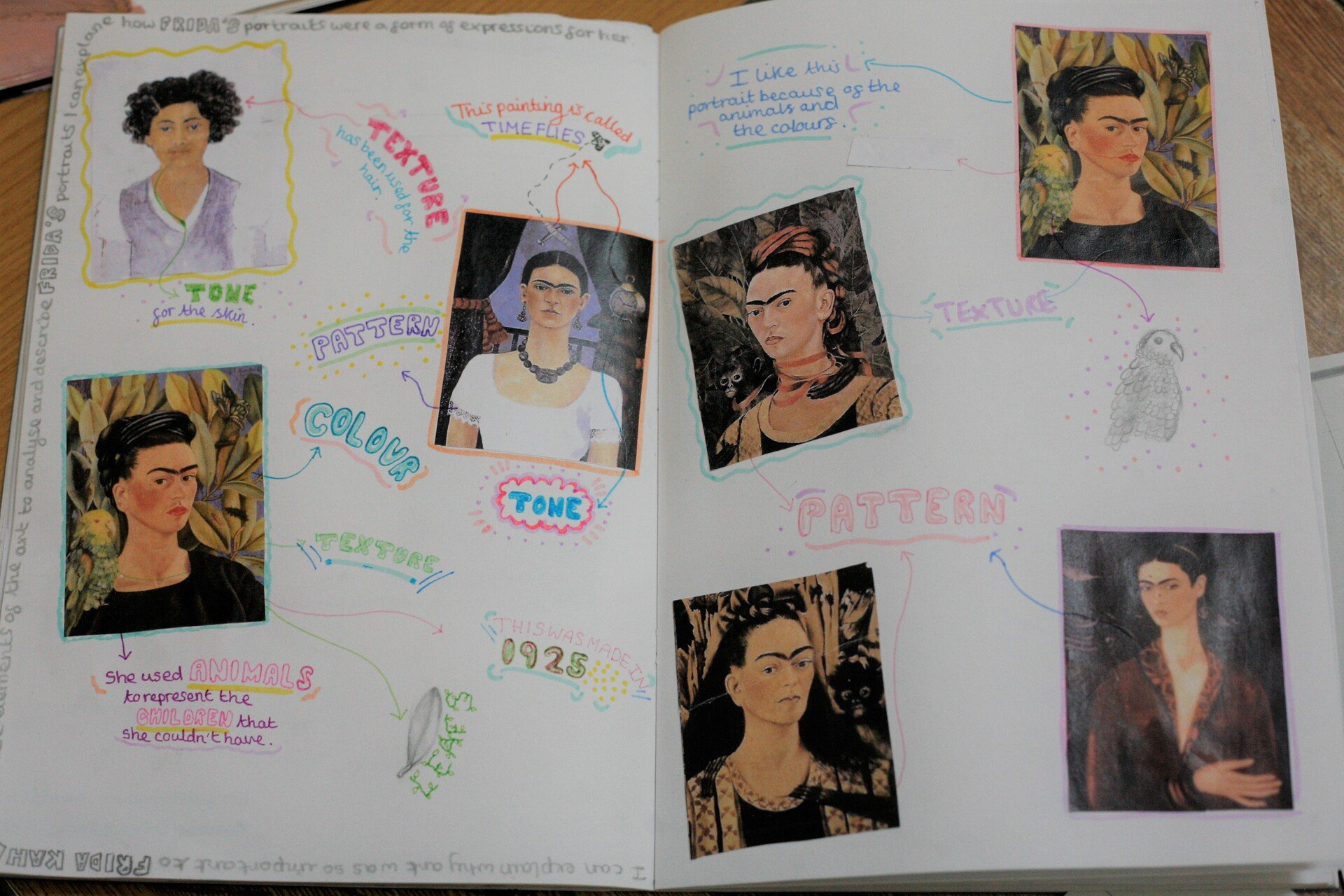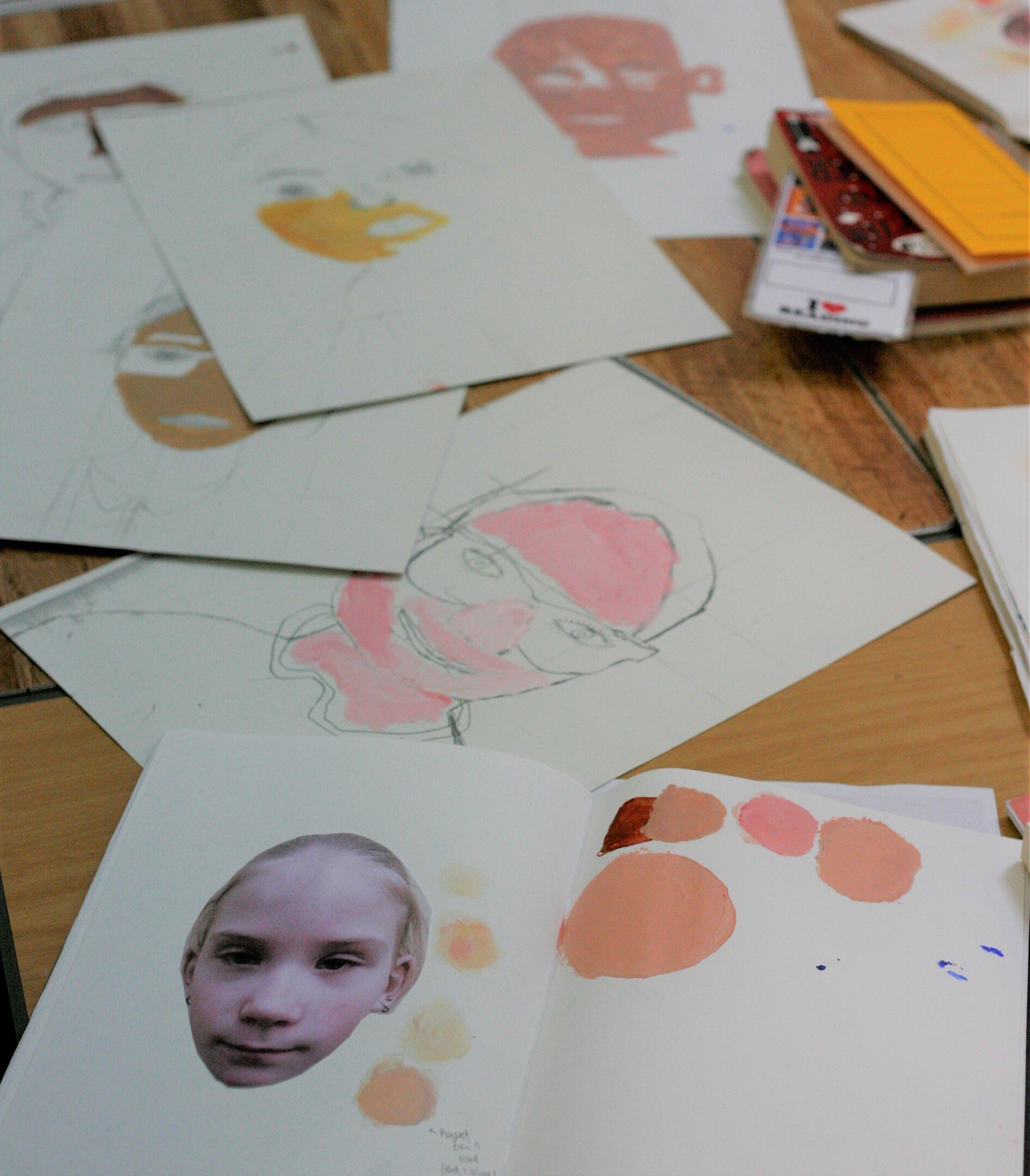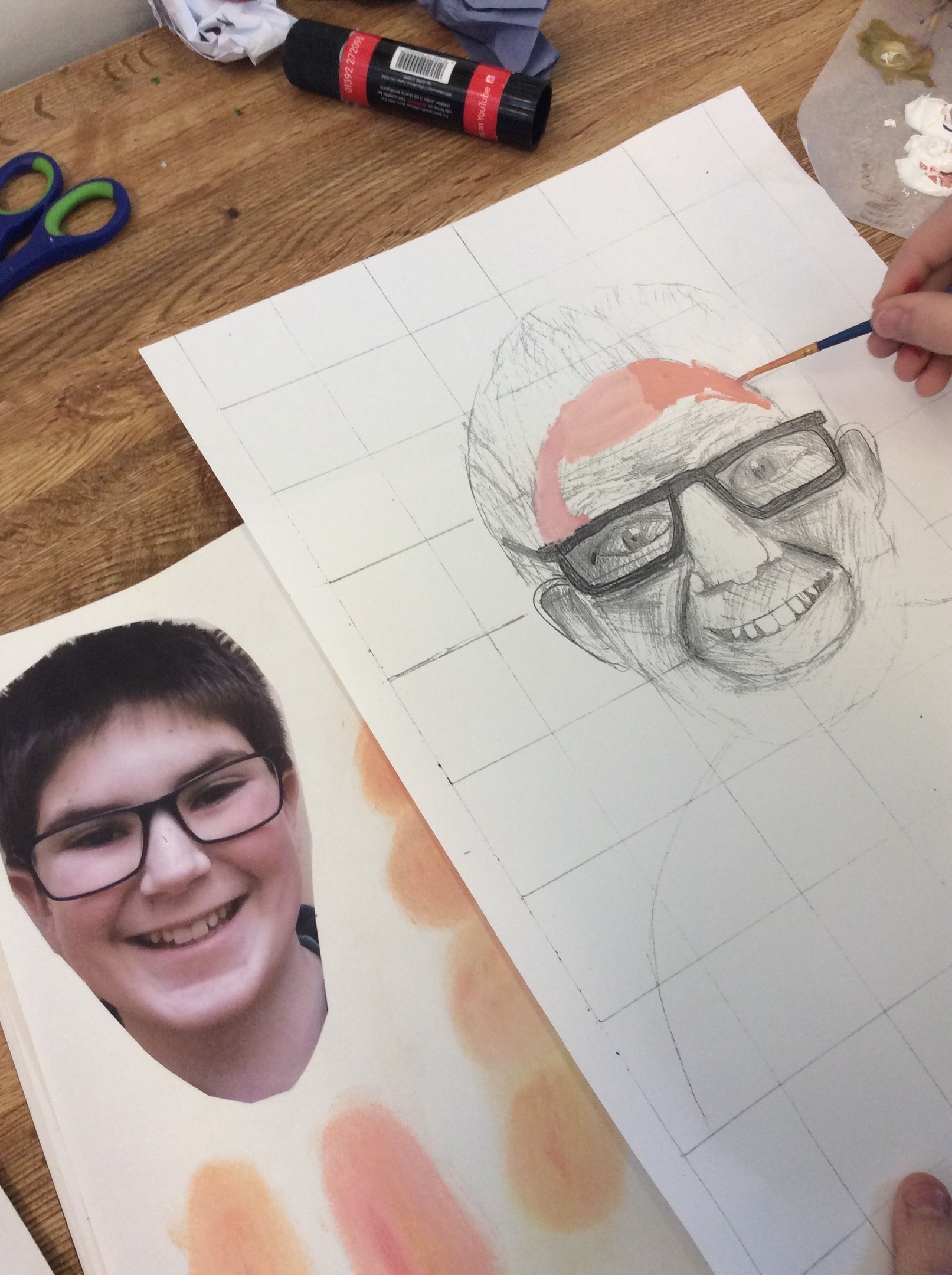 Year 5 have been learning about Georgia O'Keeffe and exploring her use of colour. They have been exploring the use of 'monochrome', practising drawing and painting skills.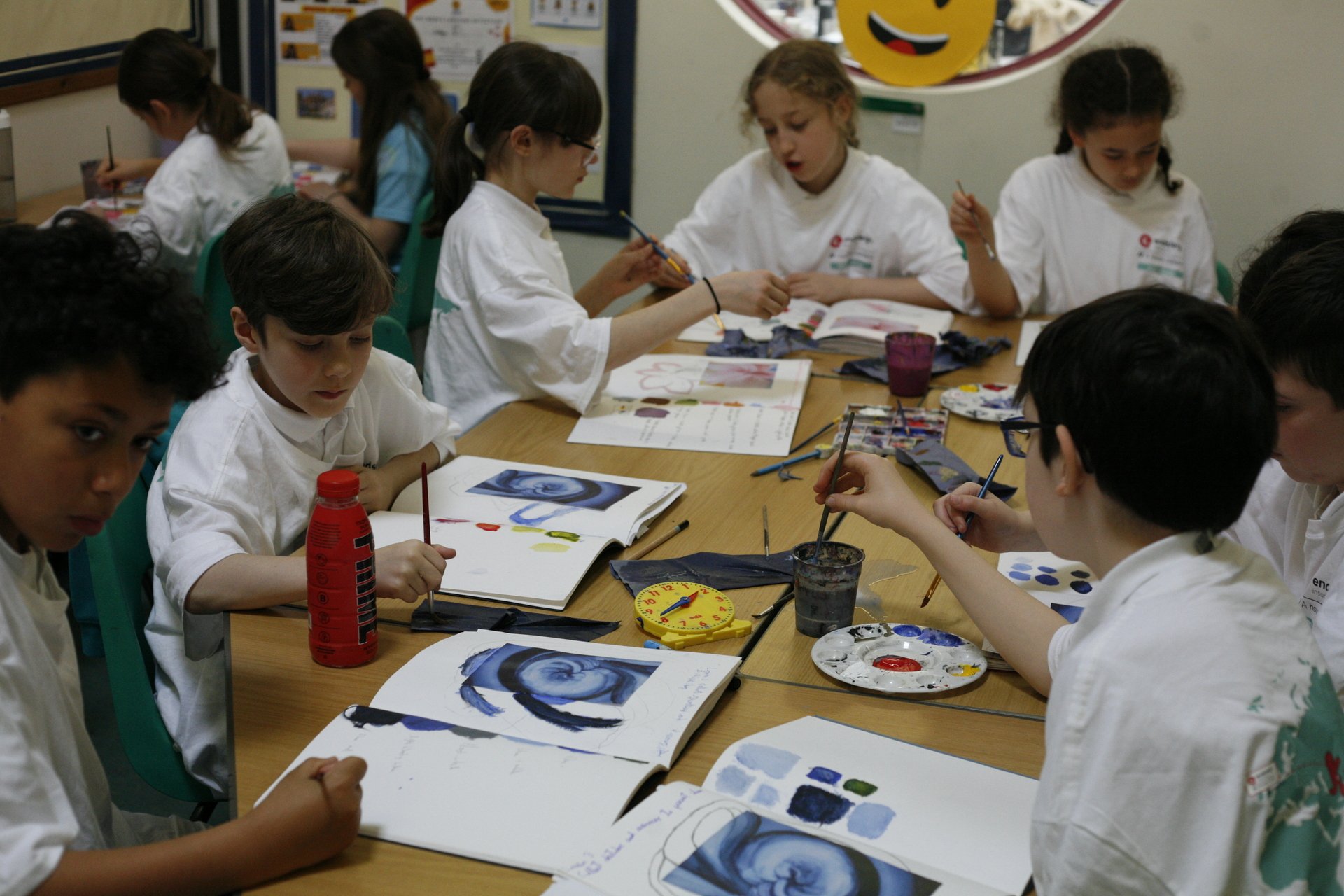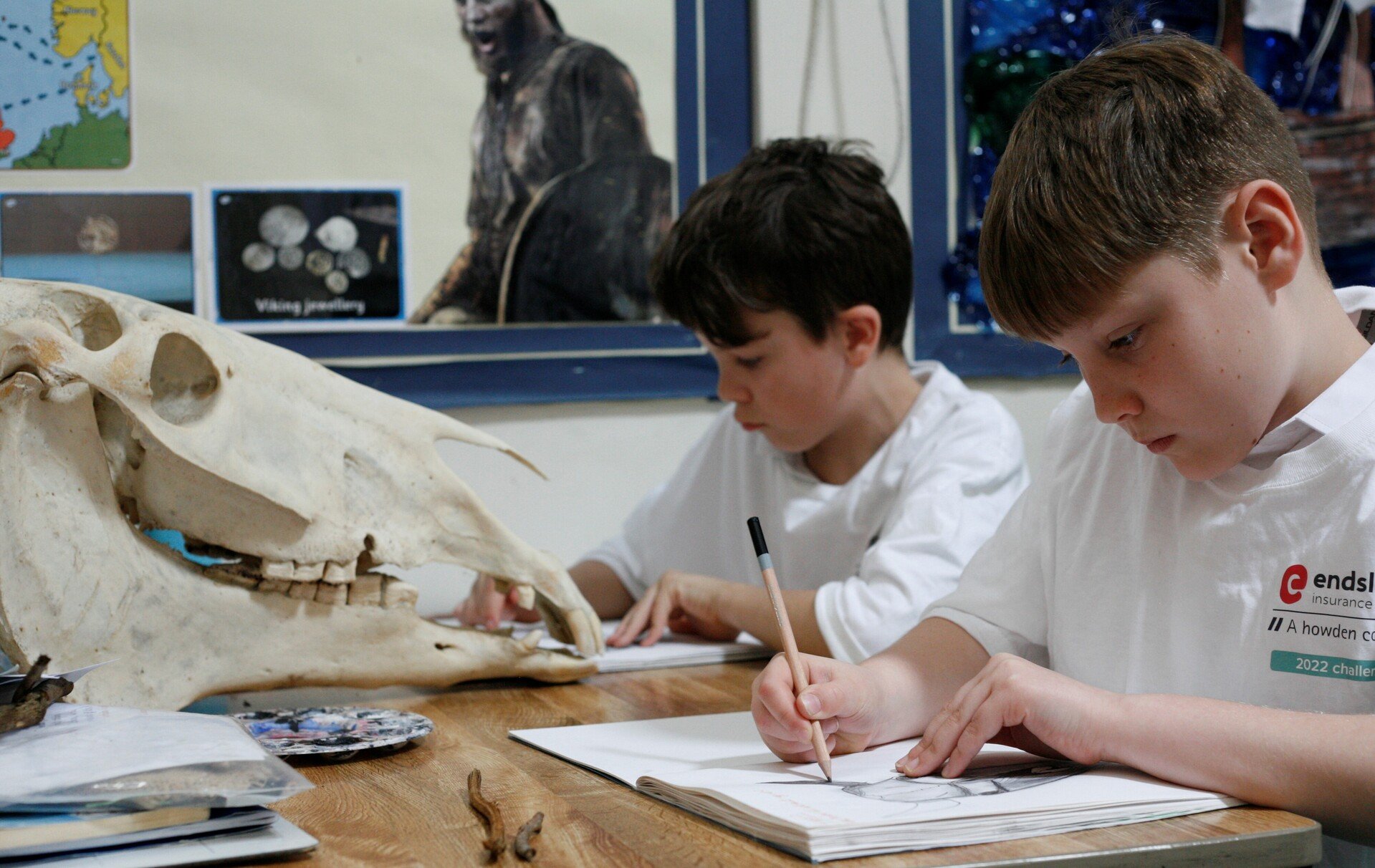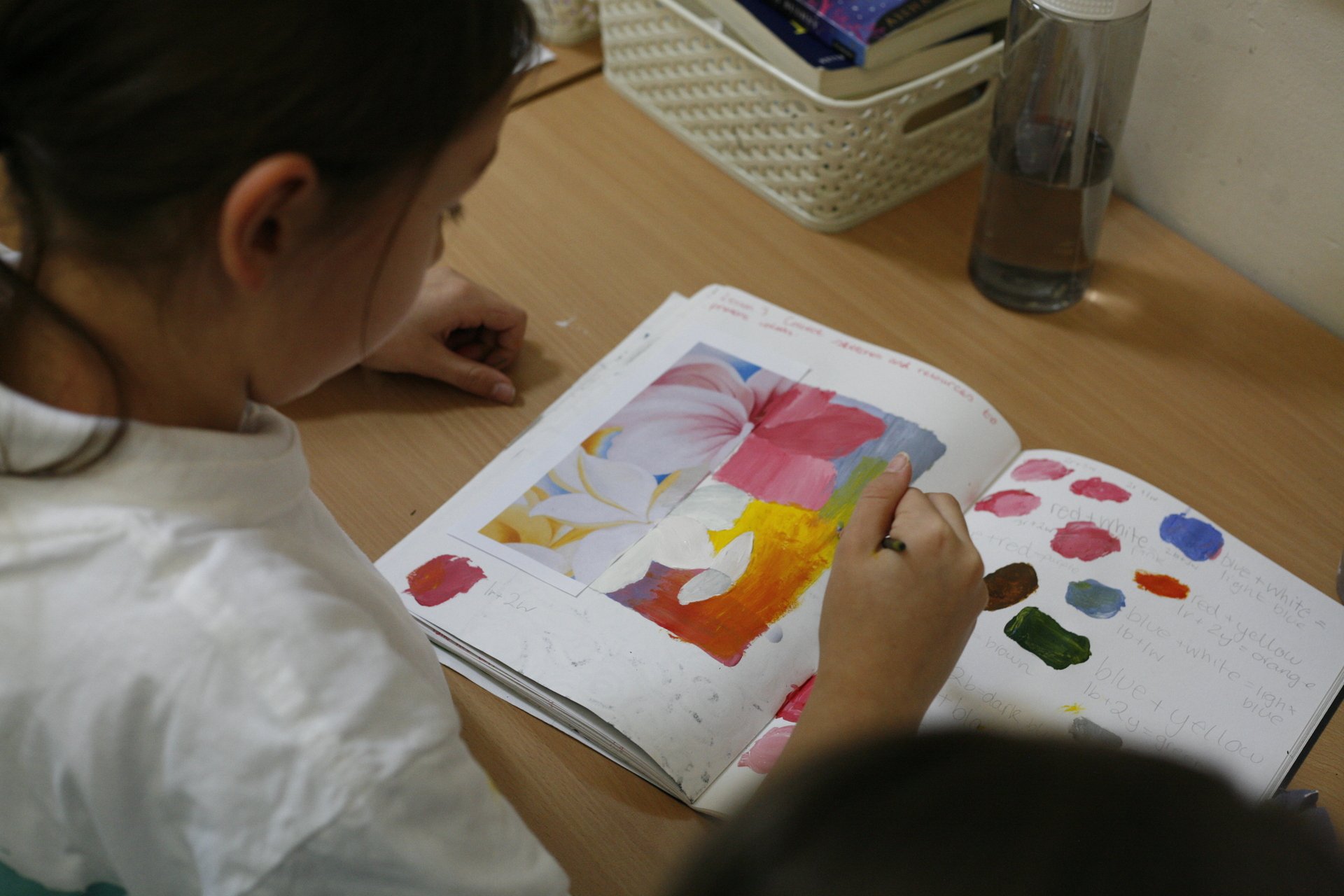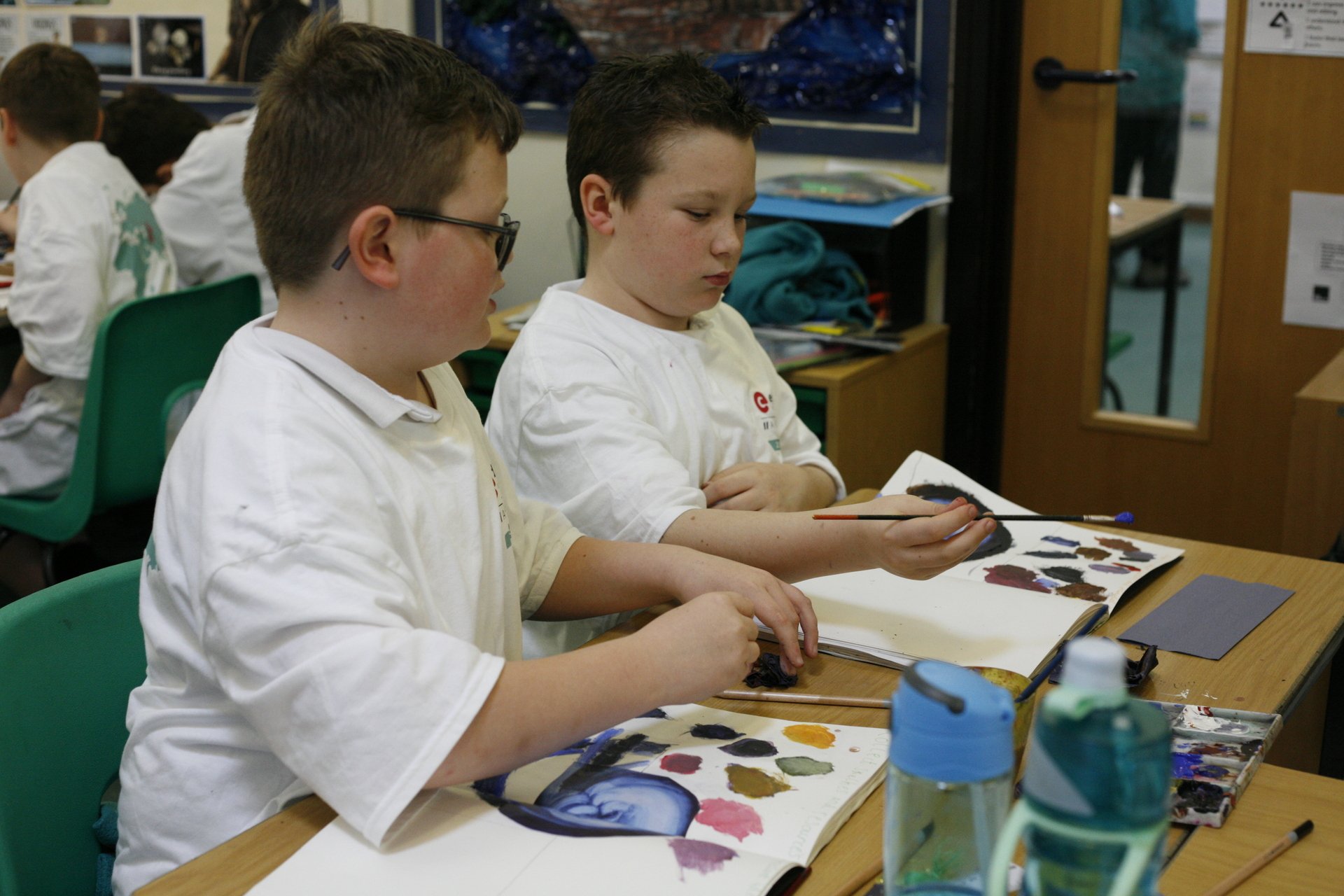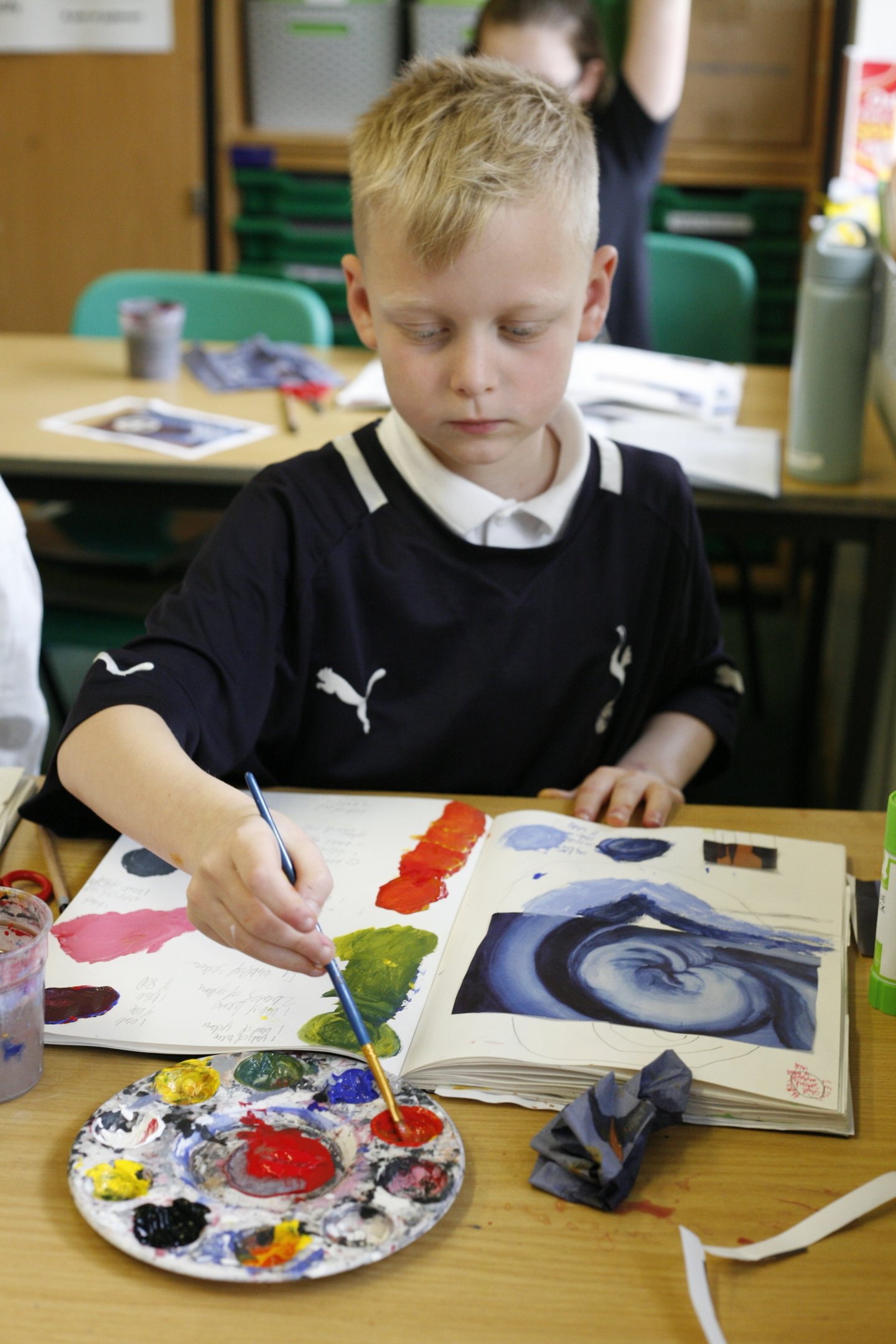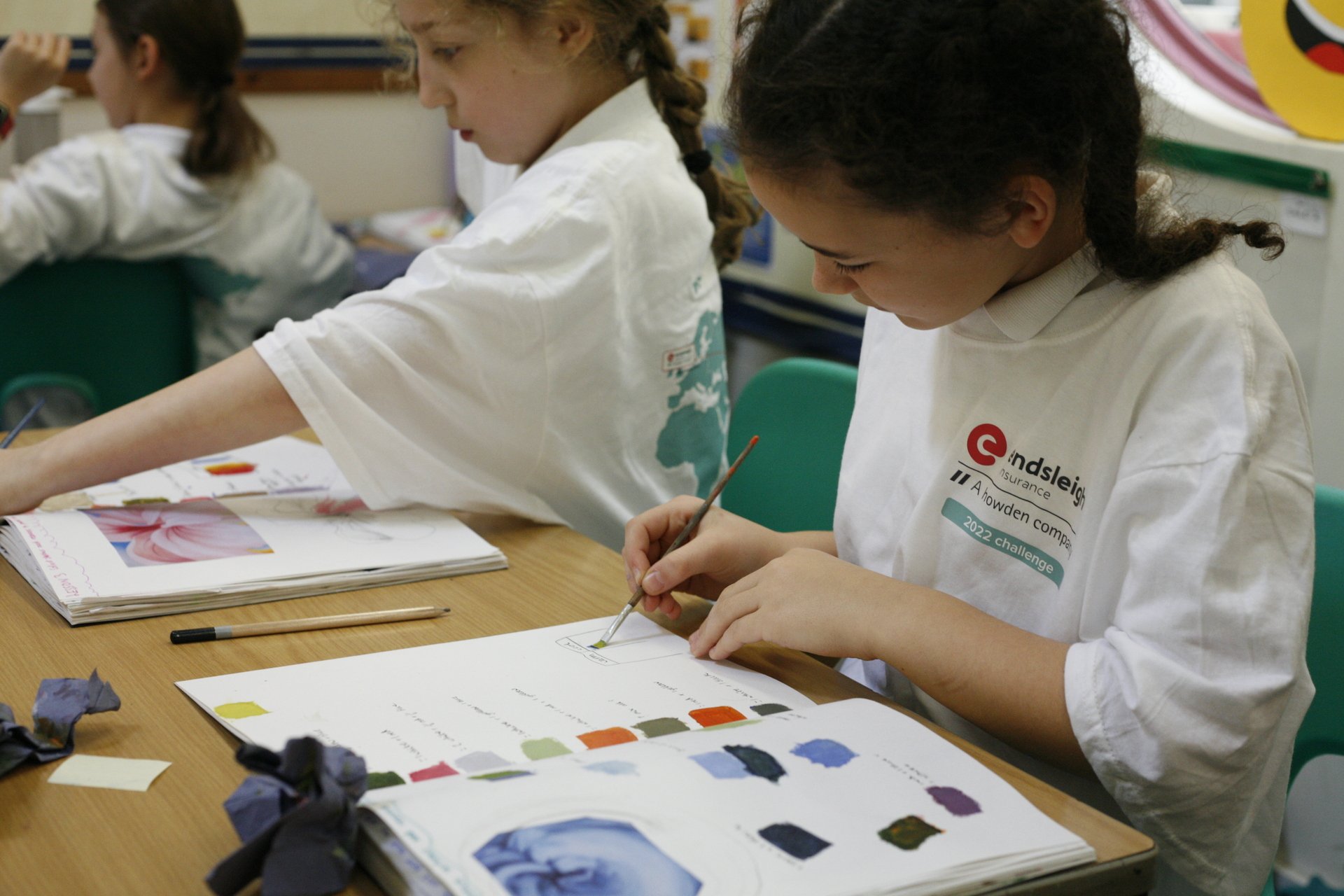 Year 4 have been studying the artwork of Henri Rousseau, John Dyer and Nixiwaka Yawanawá. They created their own rainforest paintings using the artists as inspiration. They added elements of movement, 'unrealim', pointillism techniques and a wonderful use of colour.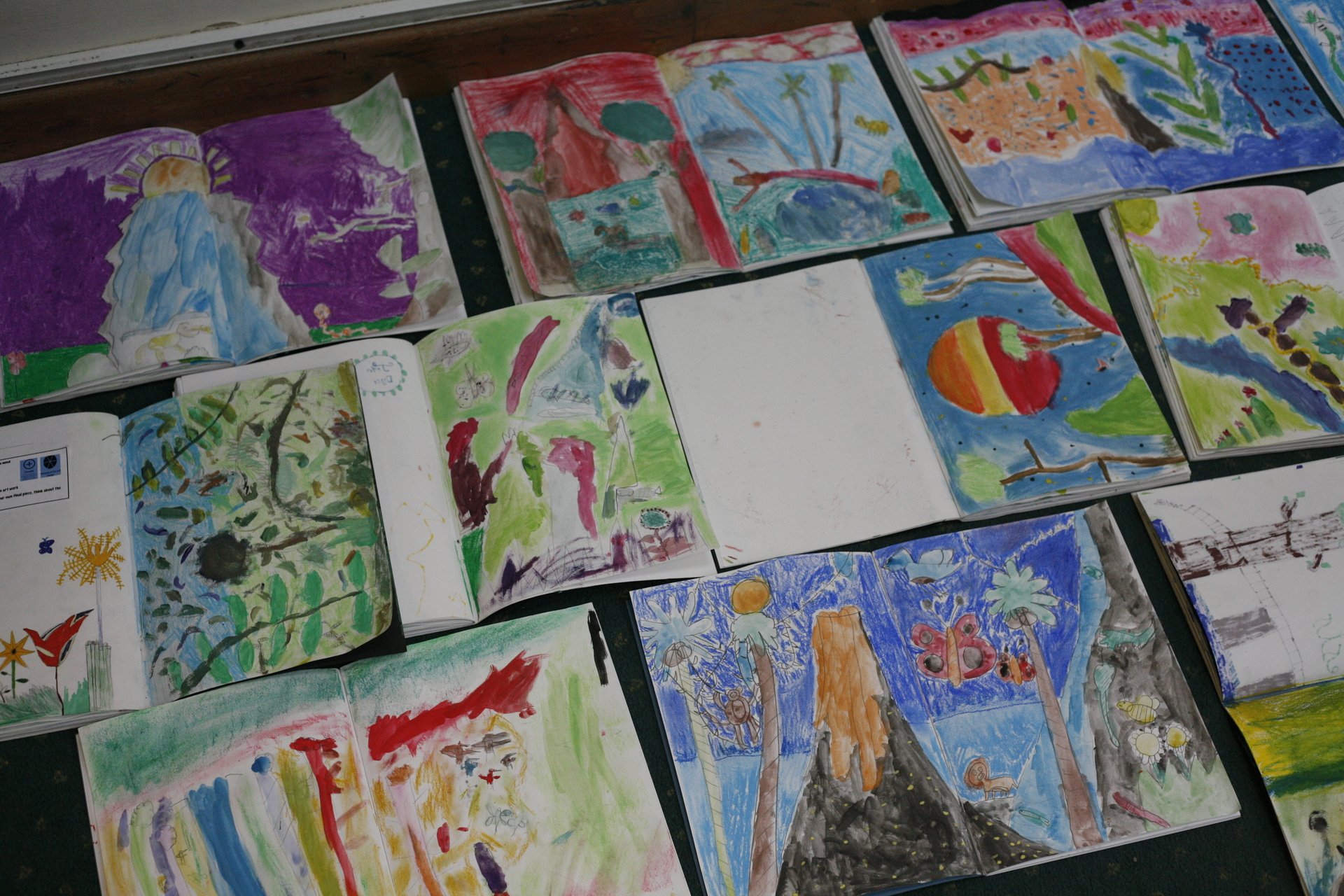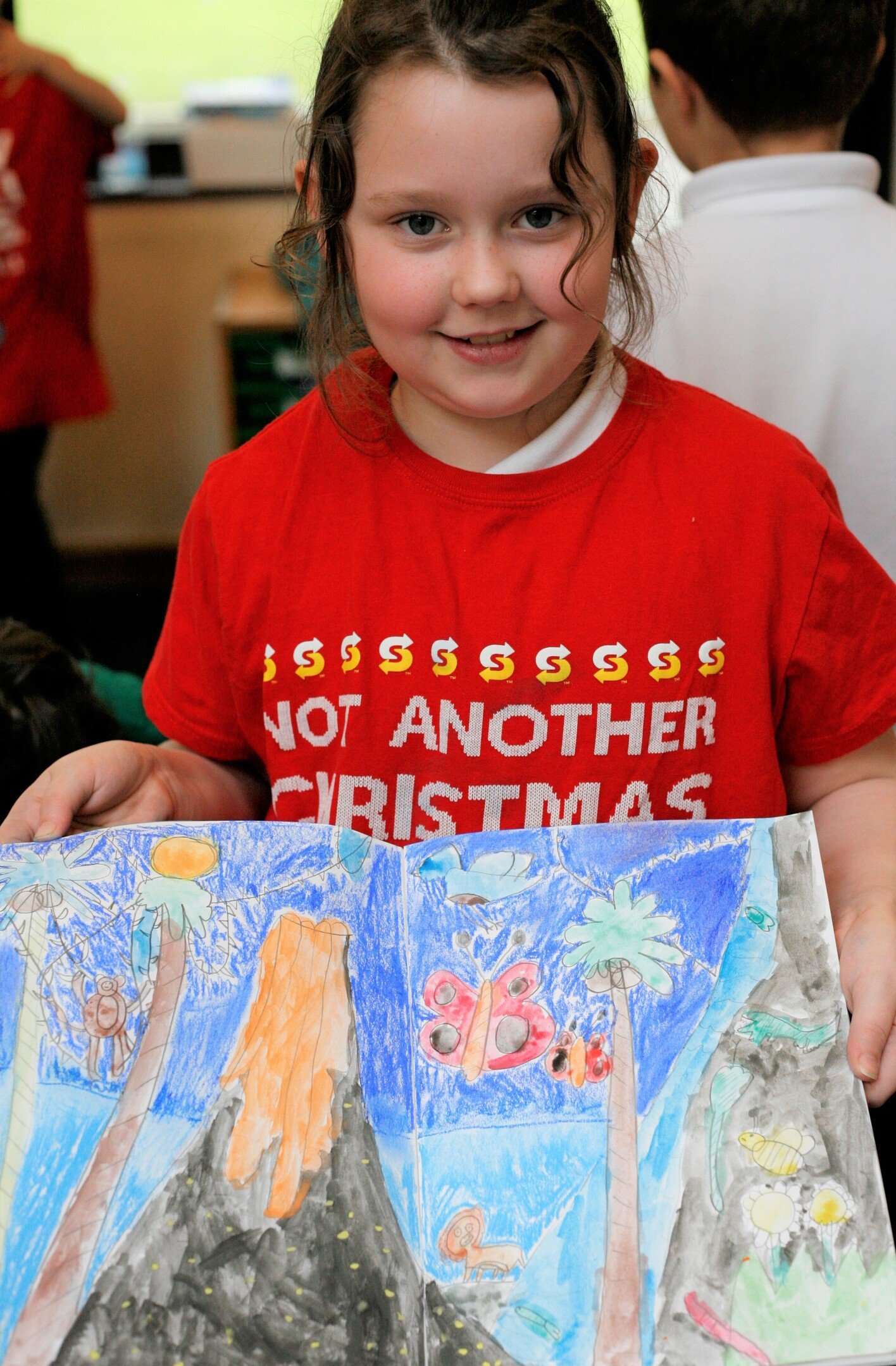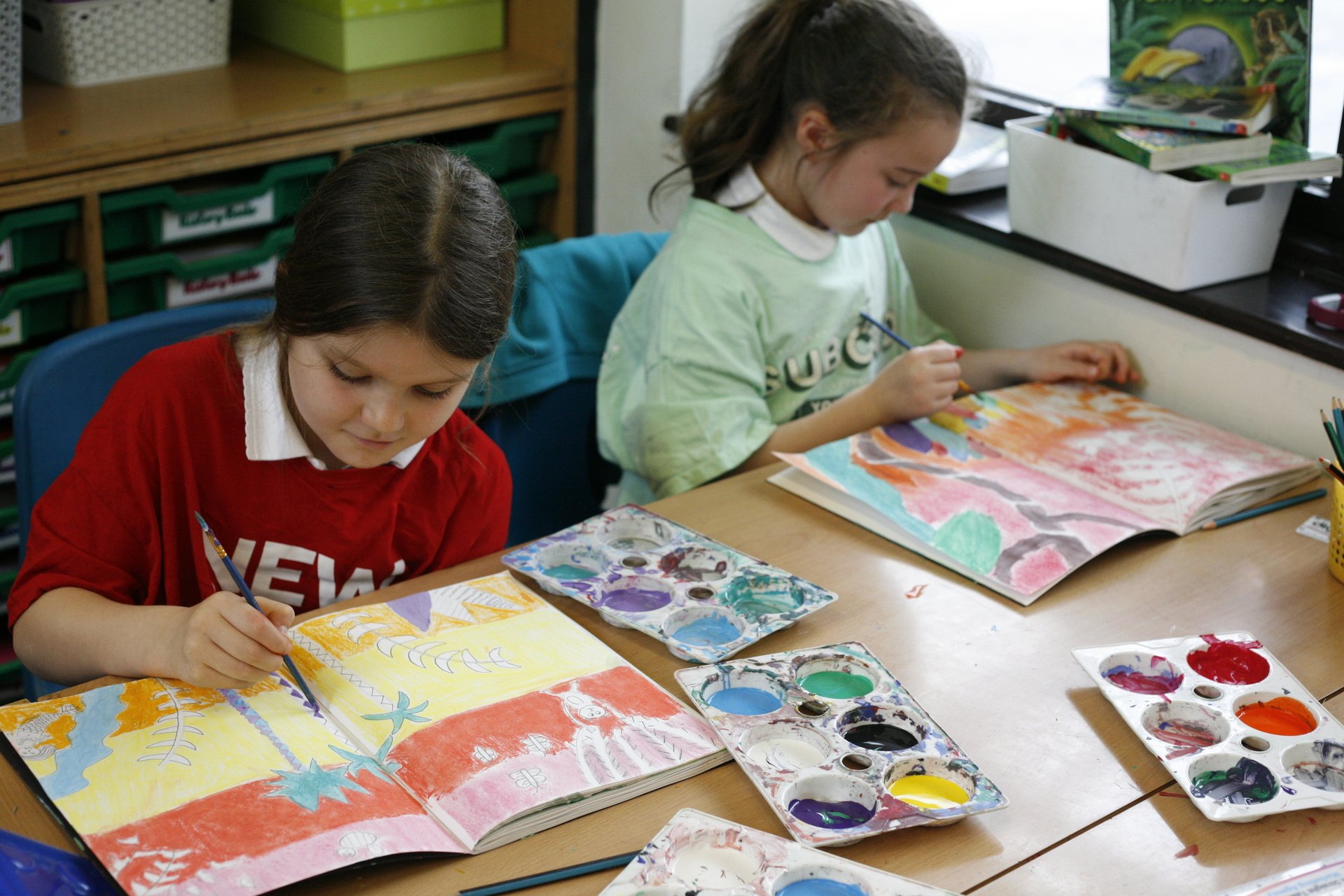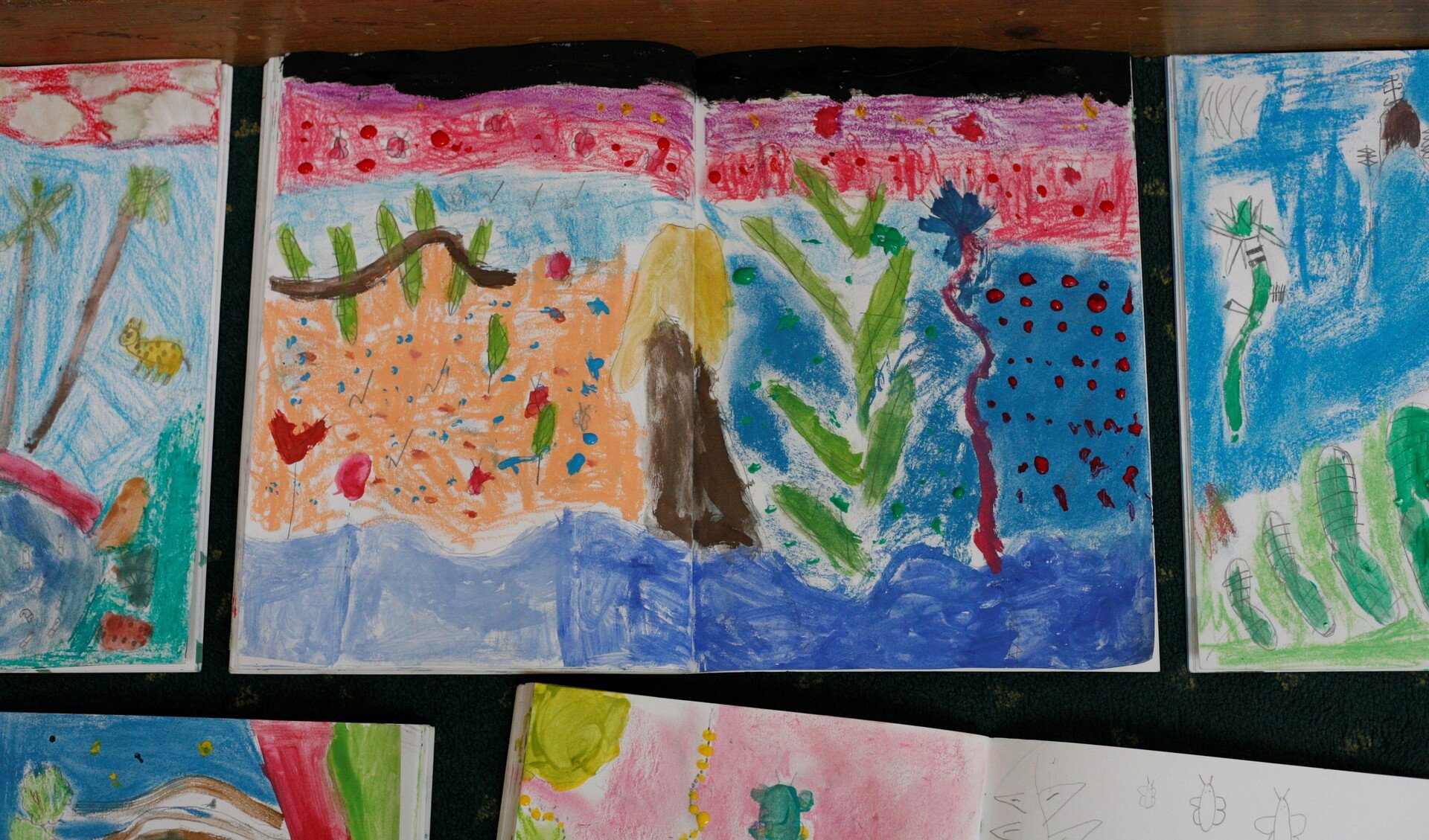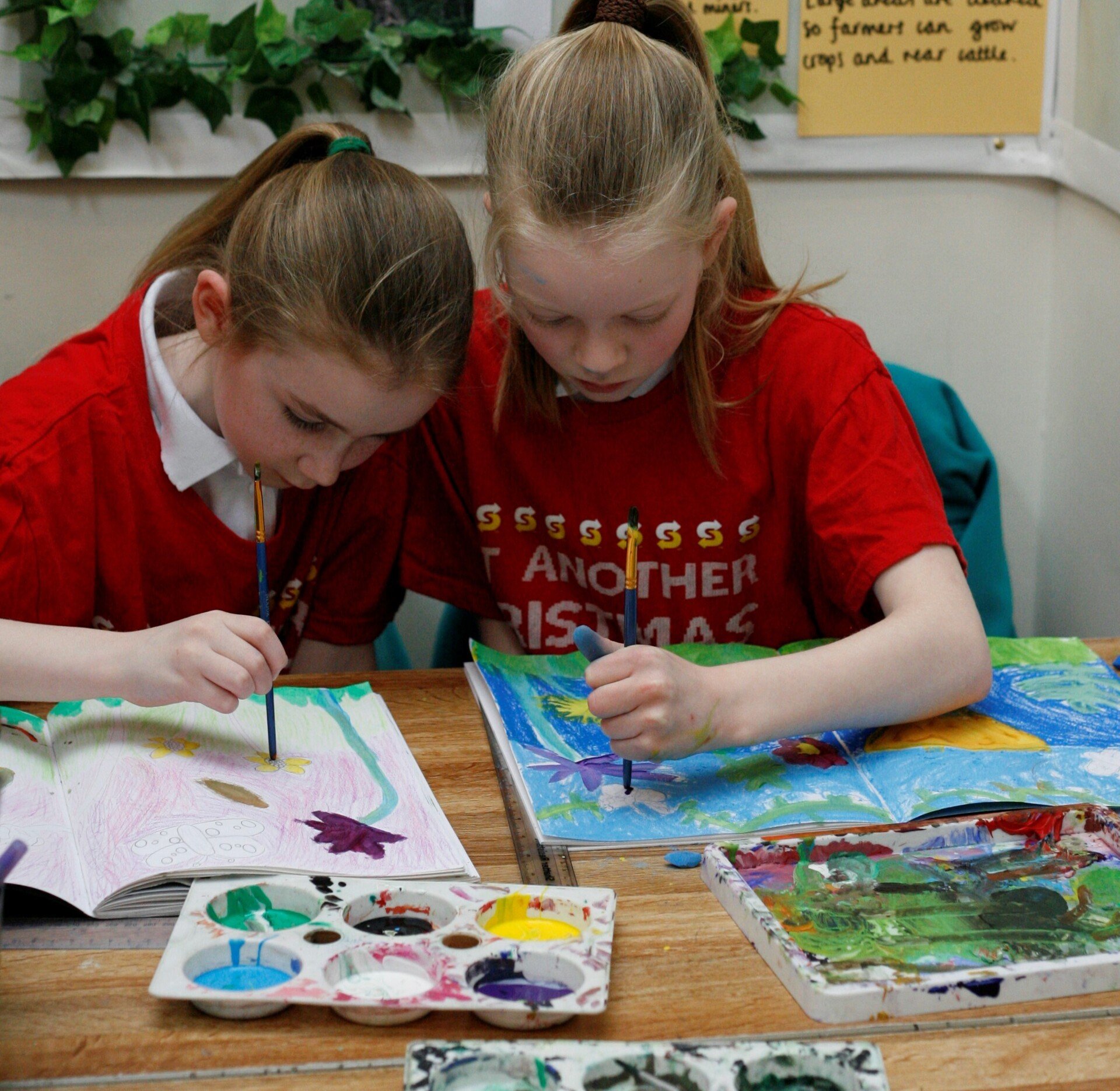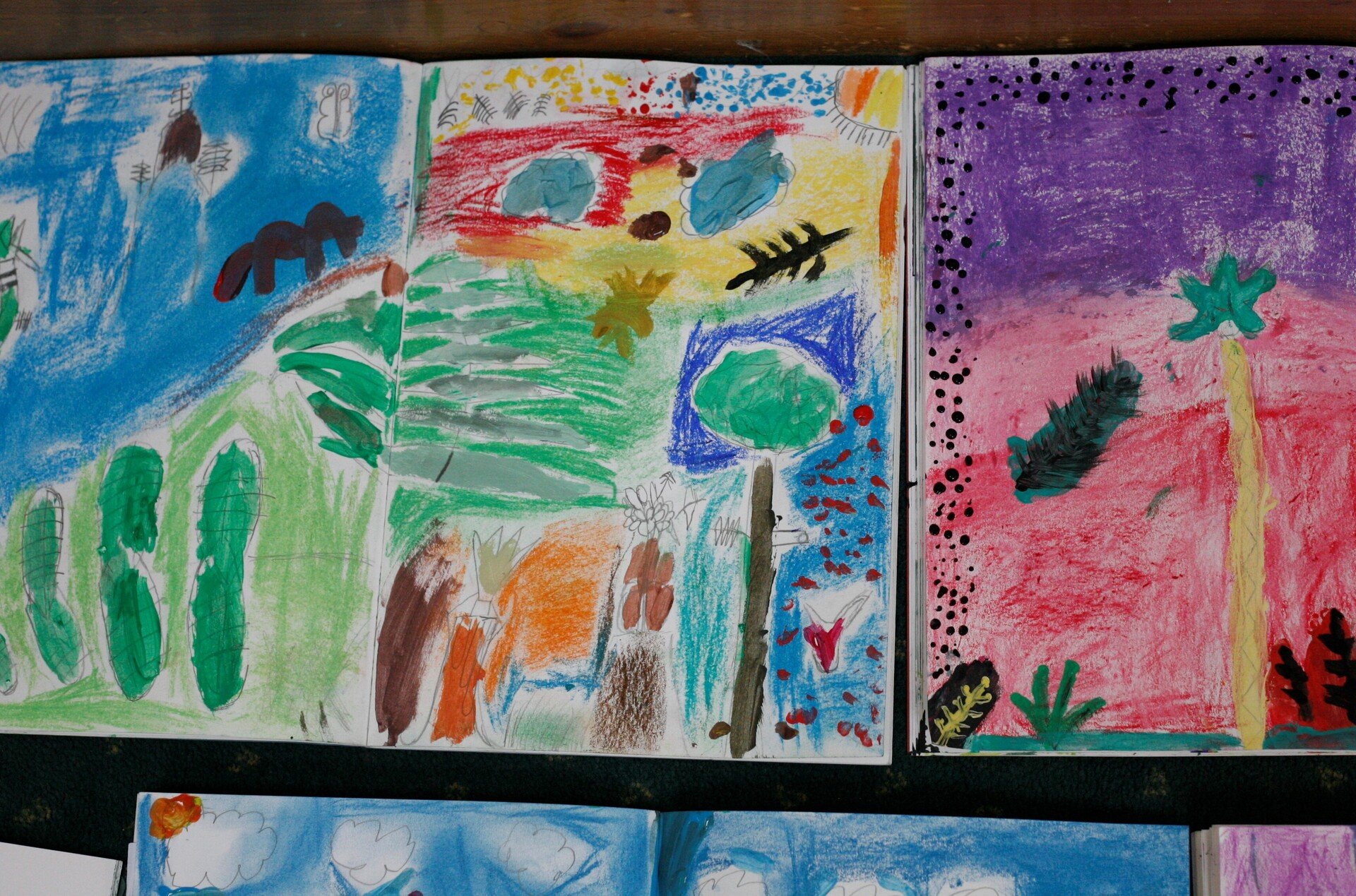 Year 1 have been learning about Paul Klee, looking at his 'Castle and Sun' painting. They have been using drawing, painting and printing skills to recreate their own Paul Klee style artwork.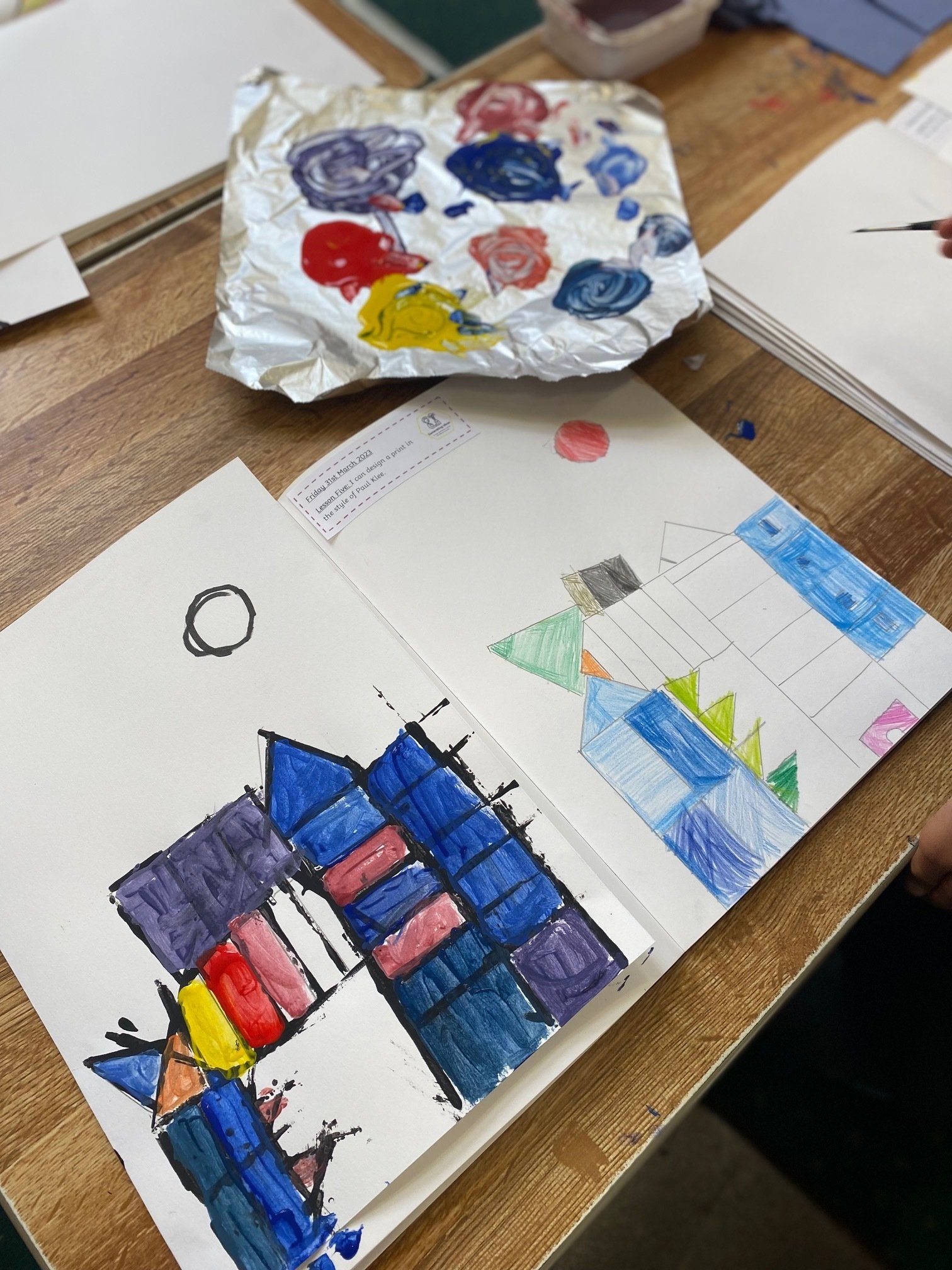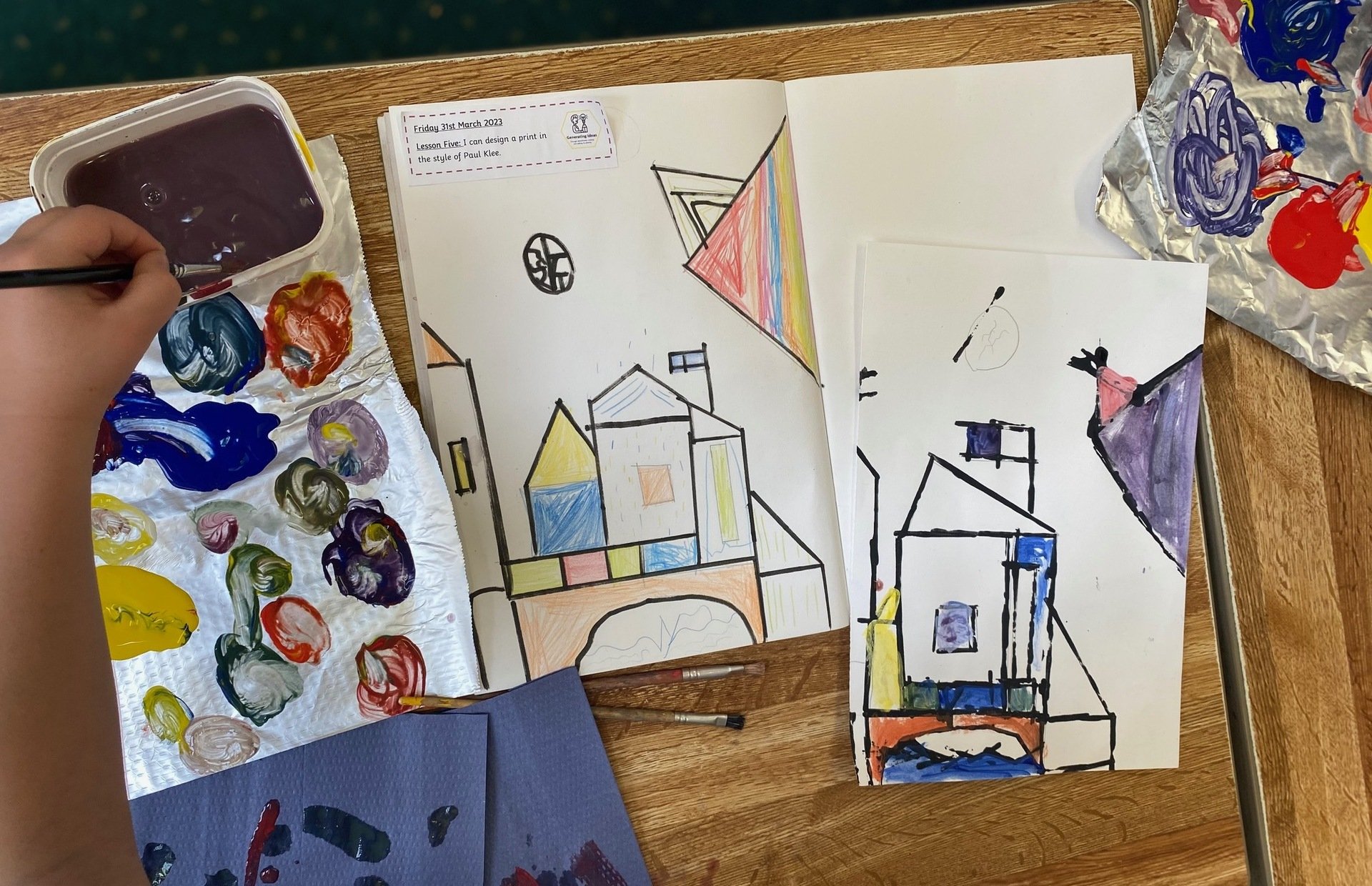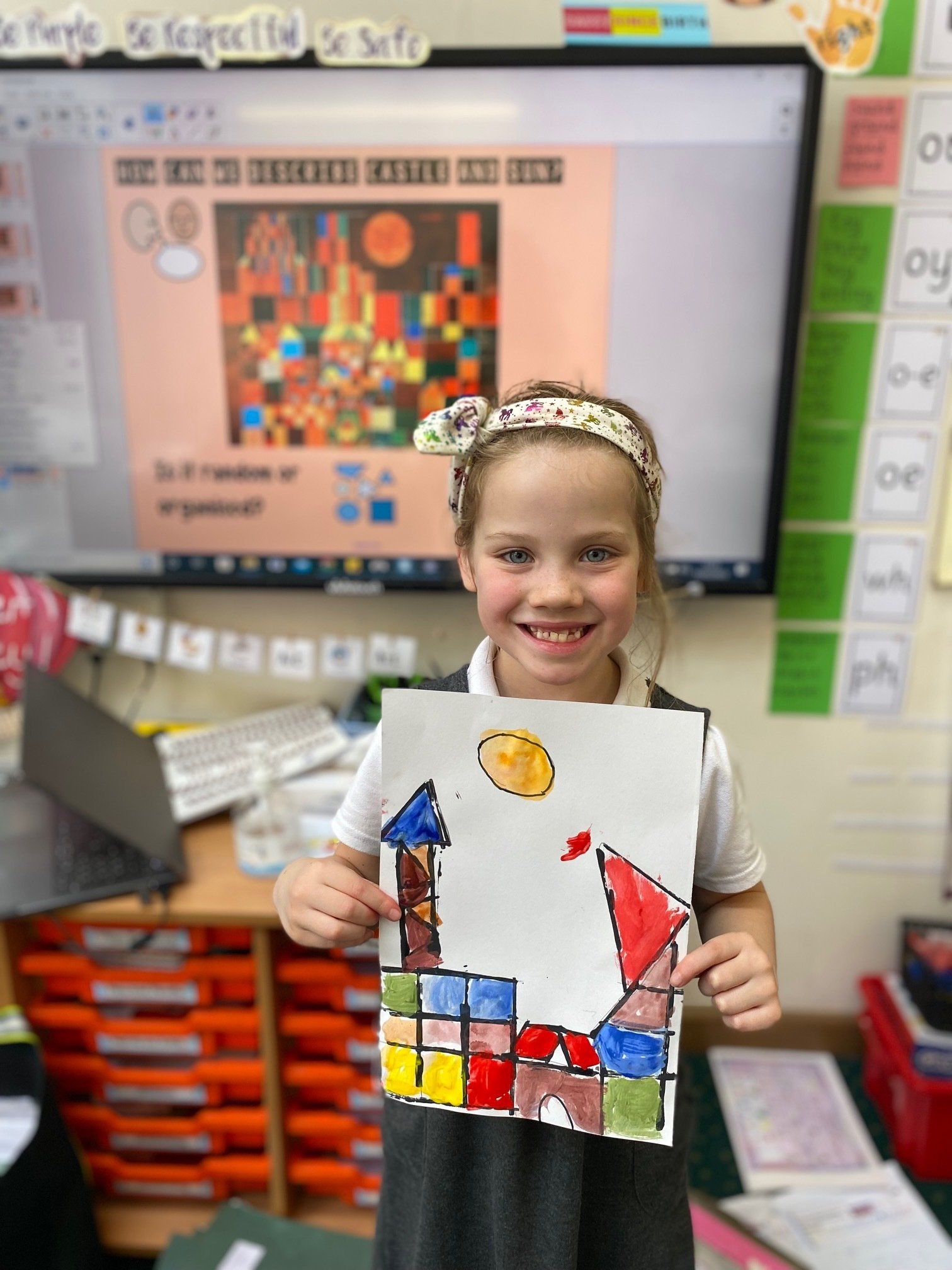 Gloucestershire Young Photographer of the Year Award 2023 - 2nd in Best Primary School Category
We had over 30 entries this year, and four children were selected to attend the awards ceremony, at Cheltenham Playhouse Theatre, to collect their prizes. Due to the standard of entries overall, we were awarded 2nd place in the Best Primary School Category. A huge congratulations to all the children that entered.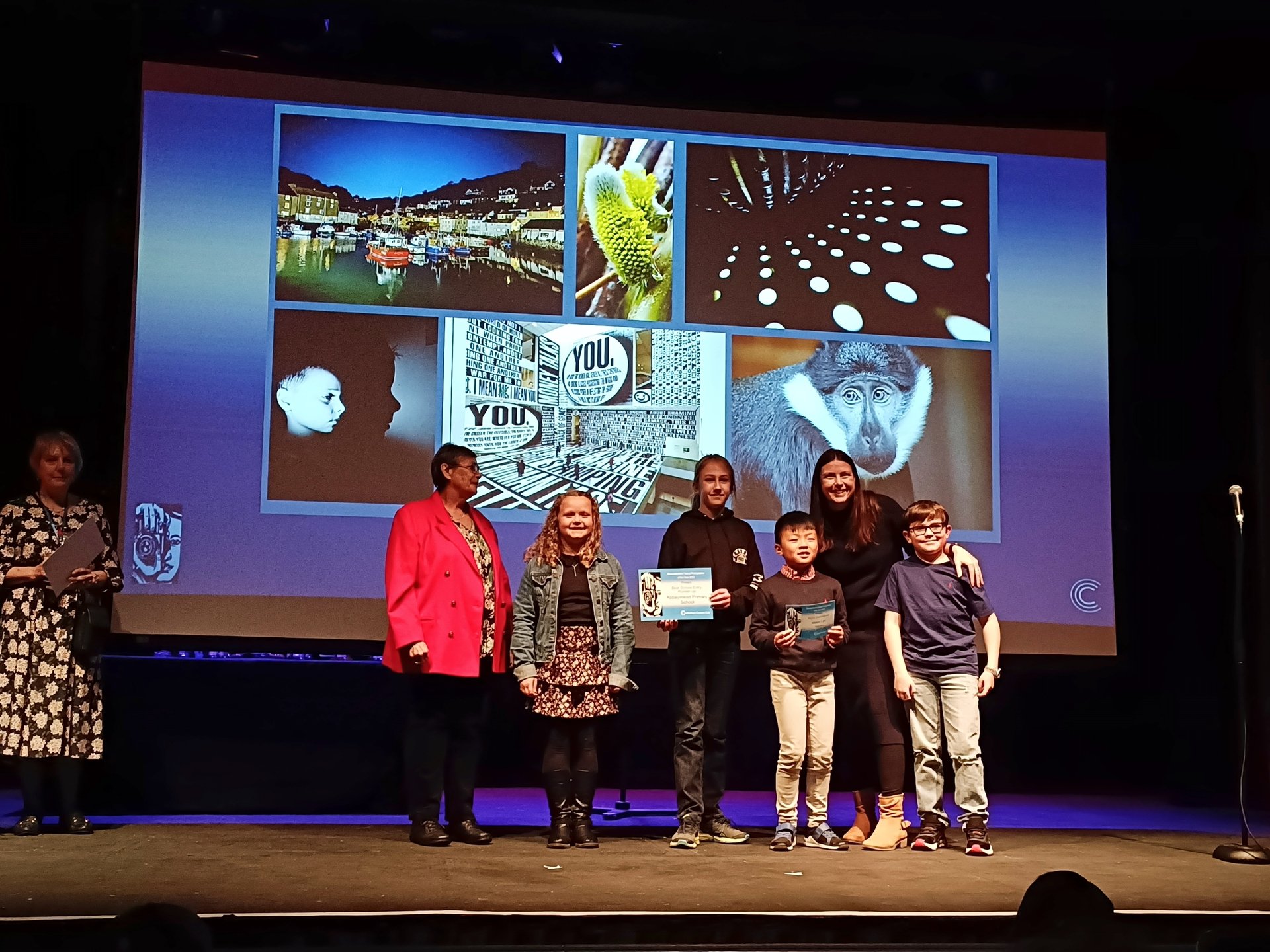 Platinum Jubilee Art Competition
Community Art work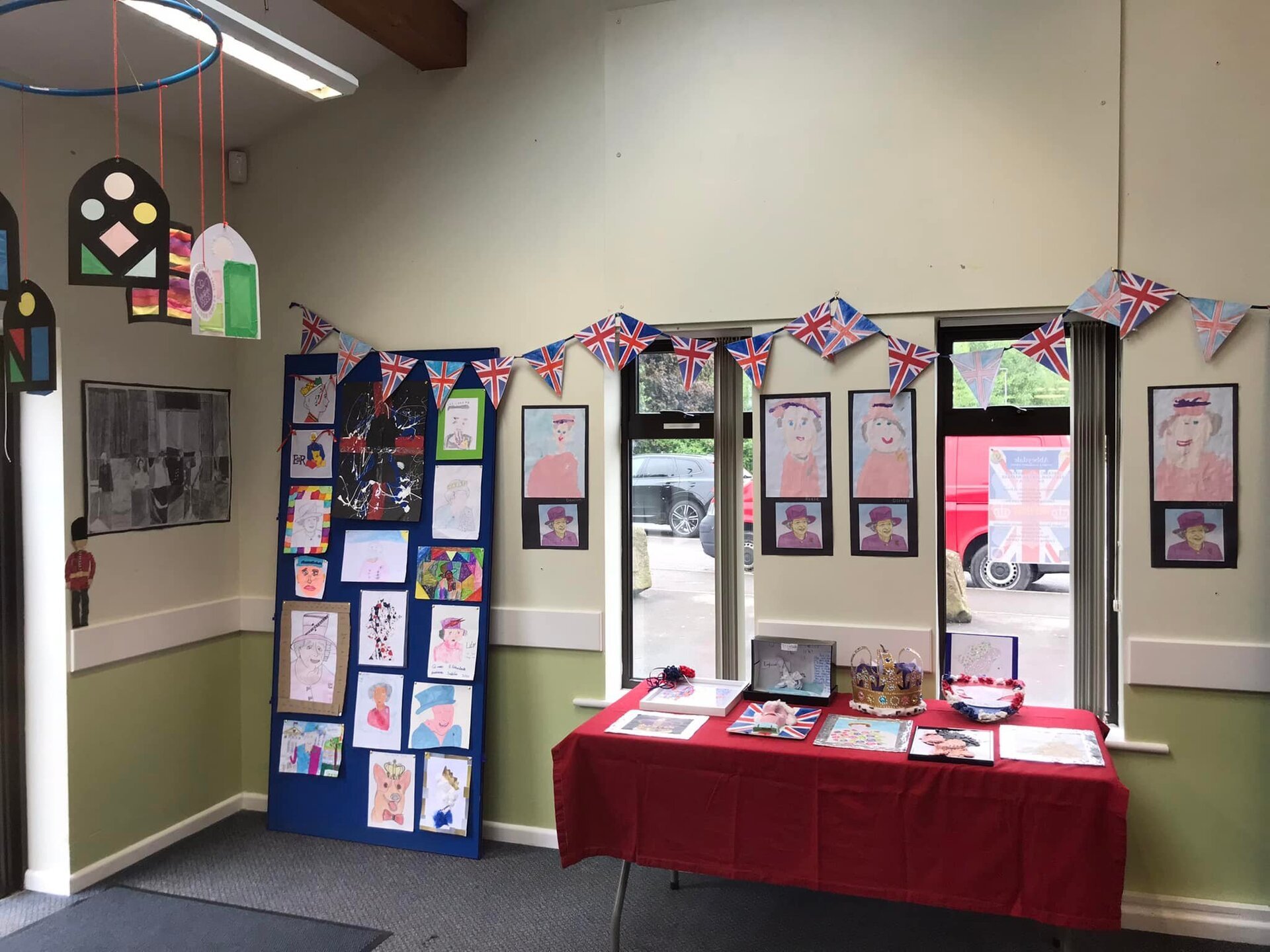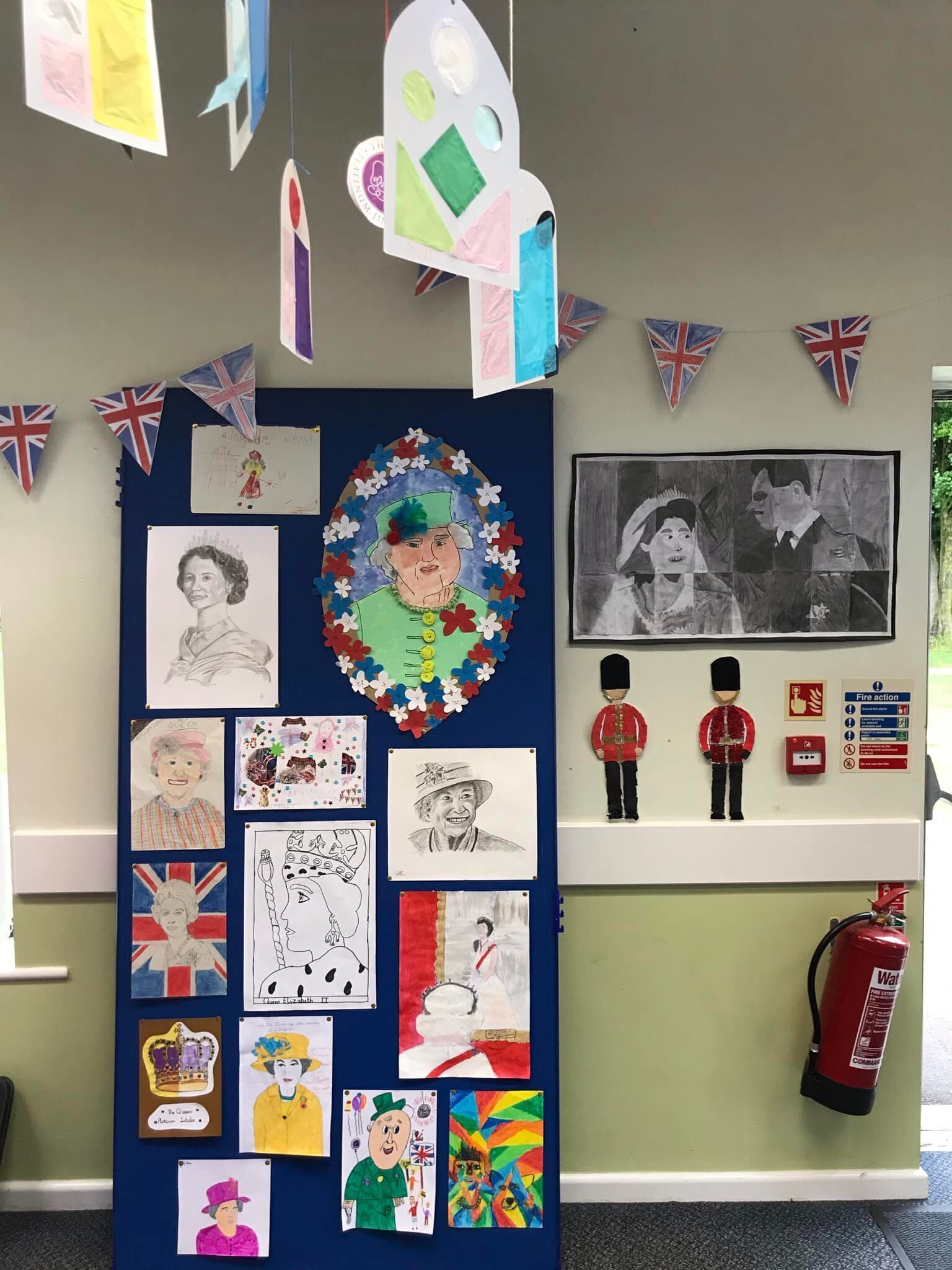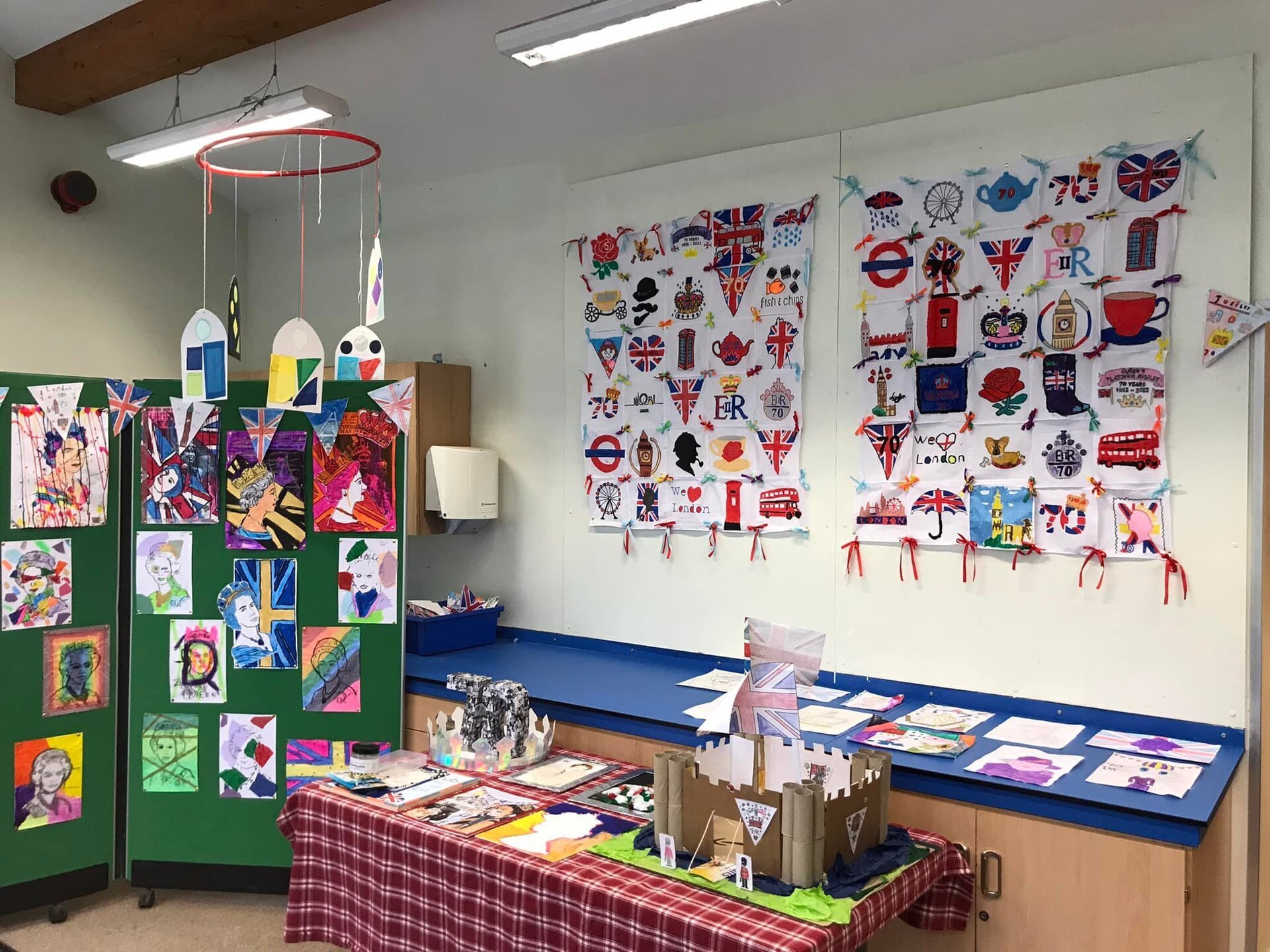 Queen's Jubilee Art Exhibition - Abbeydale Community Centre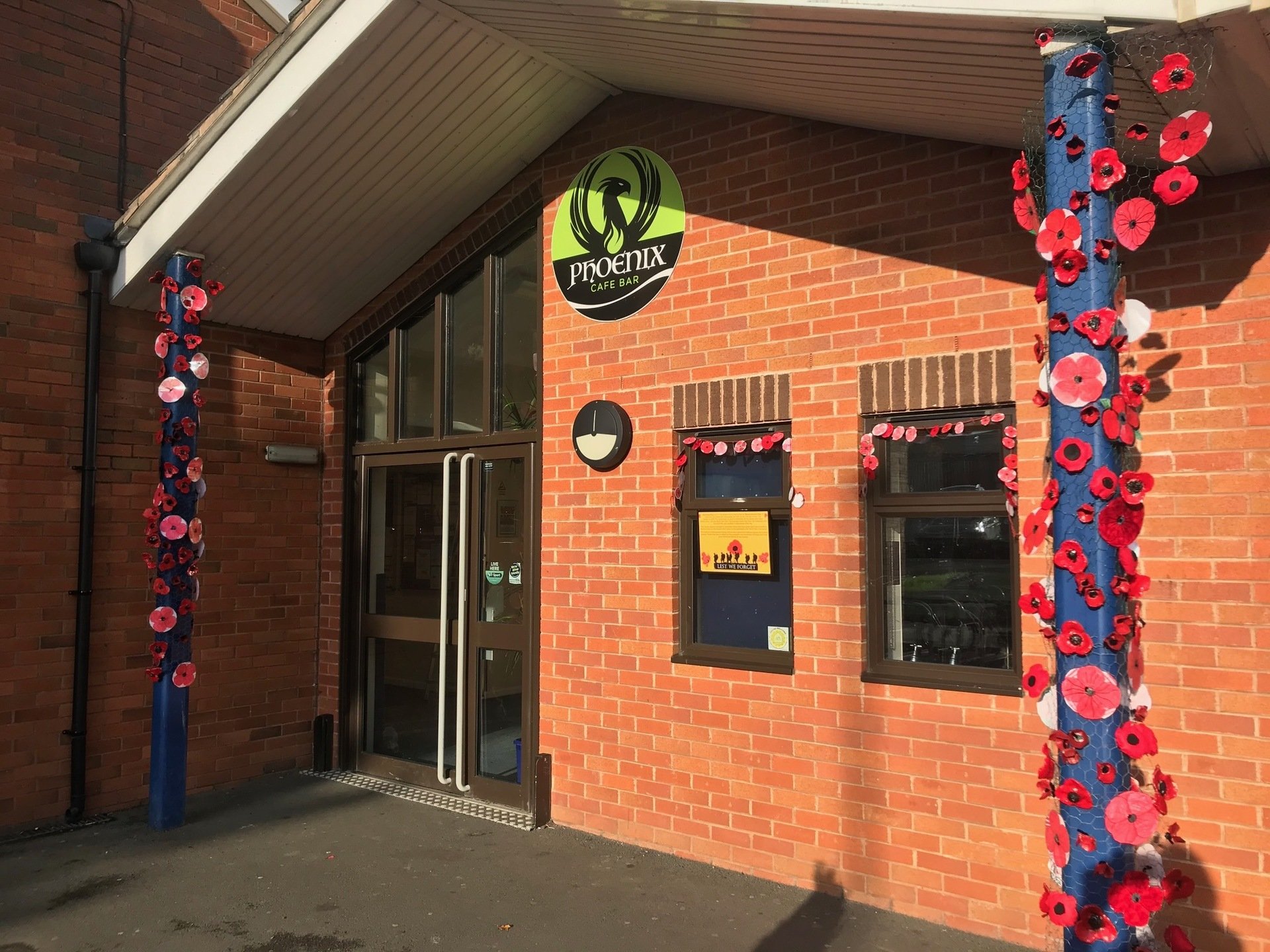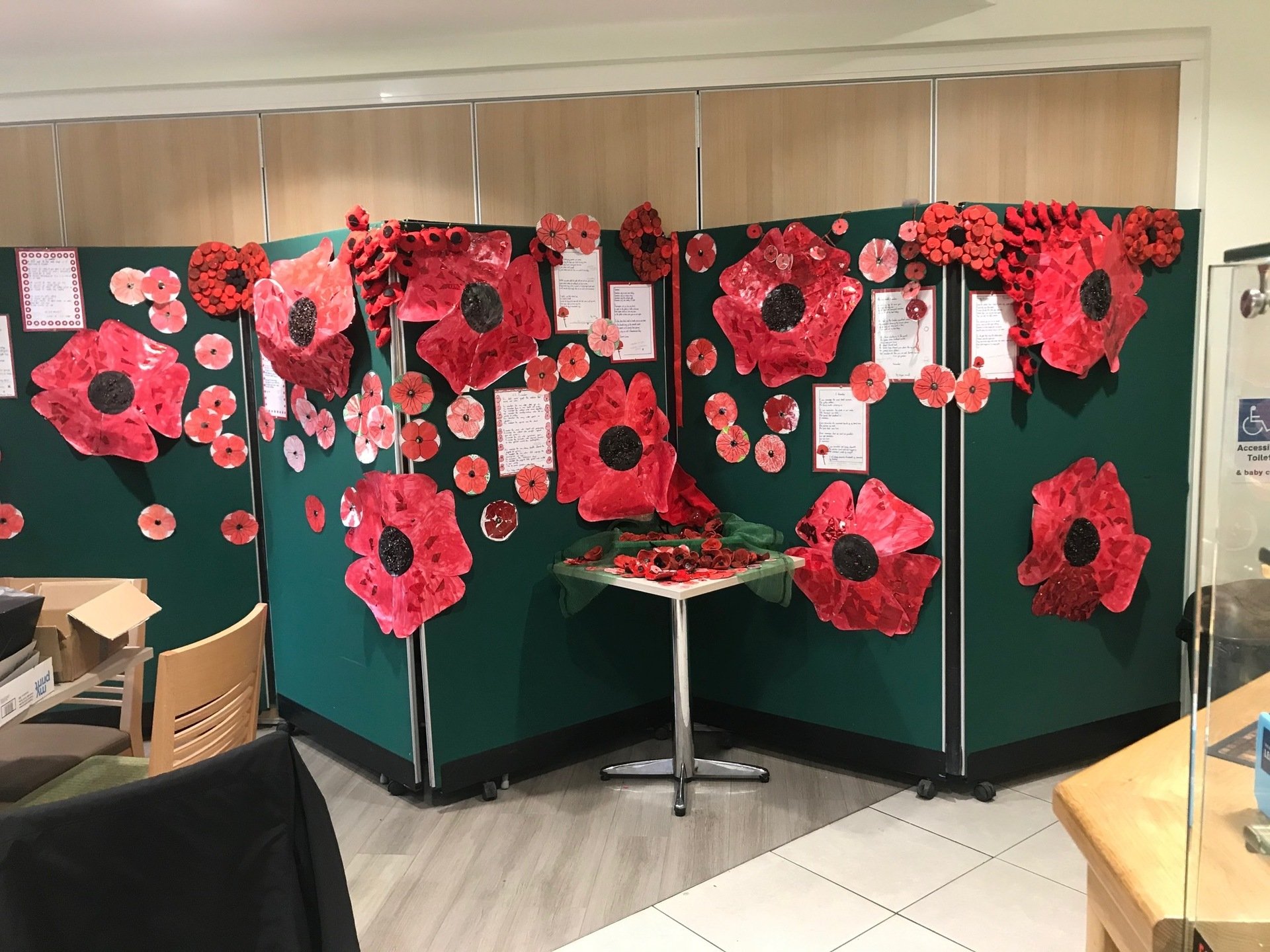 Abbeymead Community Centre Poppy Installation
.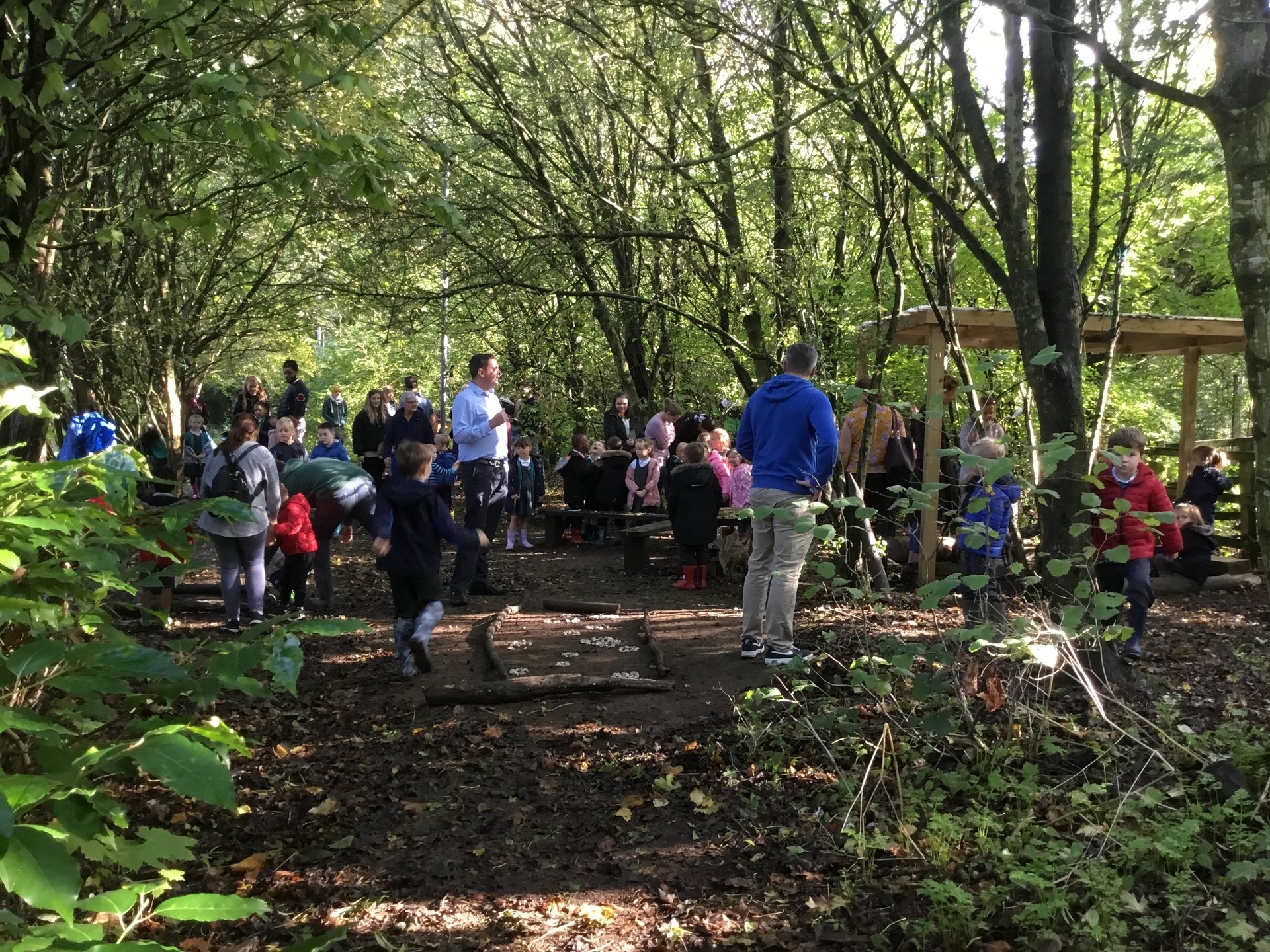 Year 1 Sculpture Exhibition to parents
How can I support my child with art?
1. Get messy!
Try to get hold of as many different types of drawing and painting resources as you can to let your child get creative and explore creating art using different materials. Paints, chalk, crayons, pens, pencils, modelling clay and much more can be found in discount shops. Just don't forget to put lots of newspaper down first!
2. Use household objects creatively
Alternatively, instead of buying materials, let them get creative using things around the house – for example, pasta and pulses to create pictures using glue. You could even experiment with colour-changing art – find out more here.
3. Keep a sketch book
Encourage your child to keep a sketch book. Suggest that they take it with them when they go out so that they can look for things to sketch – a tree, a building, a scene. Alternatively, if they see something they would like to draw, take a photo on your phone and let them sketch from it when they are home.
4. Celebrate your child's art
Praise your child's creations and encourage them not to get disheartened if they feel they have made 'mistakes'. Explain that art is about being creative and trying out different things. There is no right or wrong way to do things. You could even 'frame' their work using coloured paper or card and create a little gallery on the kitchen wall or in their bedroom to display their work.
5. Discuss and enjoy art together
Find out about local art galleries or museums that you can visit with your child. Encourage them to talk about what they see and to share their opinions – about subject matter, colours, what materials the artist used, and so on.
Local art activities to do with your child
Cheltenham Graffiti art trail – Cheltenham https://www.cheltenhampaintfestival.co.uk/locations
Nature in Art - Wallsworth Hall, Twigworth, GL2 9PA
Gloucestershire is the proud home to Nature in Art, the world's first museum and art gallery dedicated to works of art inspired by nature. With an impressive collection of art and artefacts by more than 600 artists and from more than 60 countries, there are plenty of world- class pieces waiting for visitors to discover.
The Museum of Gloucester and Art Gallery in Brunswick Road has undergone a facelift thanks to the Heritage Lottery Fund and reopened in August 2011. There are plenty of new displays and interactive exhibits charting the history of Gloucester including Iron Age artifacts, a Roman kitchen and a medieval street scene. The ground floor has been completely redeveloped and features a dinosaur display, a Gloucester night garden and the new Cafe Nerva, named after the Roman Emperor who granted ancient Gloucester (or Glevum) the prestigious 'Colonia' status. https://www.gloucester.gov.uk/museum-of-gloucester/
The Wilson Art Gallery & Museum - Clarence Street Cheltenham GL50 3JT.
Welcome to The Wilson – Gloucestershire's premier art gallery and museum. Home to an internationally significant museum collection of exceptional quality and variety, changing displays of our Designated Arts and Crafts Movement collection, fine art collections, and The Open Archive, which houses our fascinating archives relating to Antarctic explorer Edward A. Wilson, Cheltenham's history, and the Emery Walker Library. We're home to the Wilson Arts Collective, de Ferrieres community gallery, and brand new inclusive World of Wonders! gallery.
Activities and resources
Children's books for budding artists and writers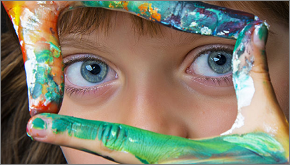 Lots of ideas for books about art and creativity.
Colouring in sheets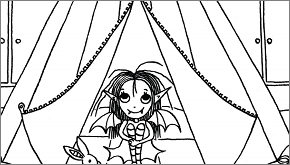 Take a look at our colouring in pages for artistic inspiration and resources.
Drawing Winnie the Witch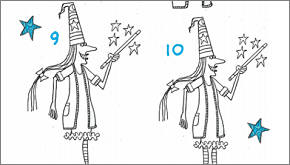 Get creative with these Winnie the Witch drawing activities.
Below are some useful websites you can use to support your child's learning in Art.
Art Detective (The Case of The Mysterious Object) is an art puzzle for kids hosted on the website of Tate Britain. It is a family of four art galleries exhibiting the UK's collection of British art from 1500 and of international modern art. The Tate Kids section of the site has a lineup of 13 cool art games that you can check out.
The section devoted to the Tate Young has an interesting art educational tool called Saturation which a budding artist can use to understand colors down the ages from 1950 to the present day.
Jackson Pollock was an American artist, whose painting style combined the free flow of paint with flinging, dripping, pouring, and spattering on a horizontal canvas. You can follow his abstract example by doing your own splattering and spattering on the computer screen with a mouse. A click changes the color in this Flash game and you can wildly move the mouse around to create wonderful patterns. There's an Internet art app for the iPad and iPhone as well.
From one master to the next: Using this uncomplicated drawing app, you can create figures using elements of Pablo Picasso's painting style. To get an idea, take a look at a few 'Picassoheads' in the Gallery section. Simply use the mouse to drag, drop, and arrange the elements to create heads.
This art and educational website is part of the world's wealthiest art institution – The J. Paul Getty Trust. If you are in Los Angeles, there's the J. Paul Getty Museum to visit. GettyGames gives you four art games and one activity to spend time on. Detail Detectiveteaches you to pay attention to details; Math Madness is about memory skills; Switch is about spotting the differences; and the Jigsaw Puzzles are what they suggest. All games are based on images taken from the world of art and architecture.
This cool online art game opens in a pop-up in your browser, so have your pop-ups enabled. Artie's House has games galore from a canvas on which you can splatter paint to quiz style games based on paintings. For instance, a painting is displayed and you have to guess the game the figures are playing in the painting. The colorful and interactive website is suitable for kids aged 4-12 and is in English and Spanish.
99Rooms.com is less of a game but more of a visually stimulating online exhibition of wall paintings, photography, and animation combined with sound (and backend programming). You have to switch on lights and gradually advance through each room. A sister project is Ana Somnia; both are examples of how many disciplines can come together and extend the boundaries of art.
Let your child loose in this kiddie art website and there's a good chance that he or she will stay there for the whole day. A National Gallery of Art website for art education for kids, the site boasts of a lineup of games for kids of all ages.
The coolness factor of this art website is that you can create your own artwork, write a message, and send it to someone. From finger painting to paint tools like confetti and Jell-O, let your imagination run wild. Sounds like a unique way to send an animated "˜painted' card for New Year (though the form was hanging on me).
Architect Studio 3D
Architecture is the most massive expression of art you can think of. In this online app you get to design a house from the ground up with the famed architect – Frank Lloyd Wright. He is regarded as the greatest American architect of all time. This web tool is a great learning aid for designing a house according to the principles laid down by Wright. Here you can design a house, walk through it in 3D, and then share it with the world.
https://www.artforkidshub.com/
http://www.eduweb.com/pintura/
http://www.jumpstart.com/parents/resources/art-resources
https://www.easypeasyandfun.com/how-to-draw/
Mead Road, Gloucester, Gloucestershire, GL4 5YS
Tel: 01452371710
Email: secretary@abbeymead.gloucs.sch.uk